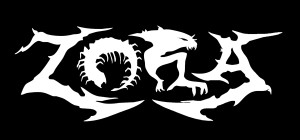 Tat0: Zora is a brutal death metal band screaming its extreme hate from Southern Italy. The band born in 2004 with its first cd-demo Dismembered Human Race, therefore a new work, U.V.A was born in December 2004, out for the American label Malicious Intent Records in 2005 … gigs, fun, friends, bullshits and satisfactions and in 2009 Austrian label Bloodred Horizon Record releases the first full-length CD Gore … Now, after some line up changes, Zora push ahead like and is working on the new CD with a new line-up made by Gianluca Molè and Fabio Monaco on guitars, Marko Veraldi vocals, Dario Casabona on drums and me, Tat0, on bass guitar.
Summon: What kind of music do you play?
Tat0: Certainly a death metal of American style, trying to be instinctive personnels and without tie of any kind … the instinct is a fundamental component in all form of art, that naturally goes to mix him with the background that each possesses.
Summon: Where did the band name come from?
Tat0: Zora was the dog of an our friend, a very ferocious pit-bull, trained to fight by other people … removed from the road he was taken care of and adopted, but he was always aggressive and hot tempered for the experiences suffered in past … For this reason we thought that Zora was the best name for the band that we had just formed.
Summon: Introduce the band members and what they do in the band.
Tat0: Currently in the band we are 5 friends already involved in other common projects … it is a family … Marko Veraldi ( Land of hate, A Buried Existence, Bretus ) on the vox, Glk Molè ( Glacial Fear, A Buried Existence, Bretus ) and Fabio Monaco ( Schizo ) on the guitars, Dario Casabona ( Schizo, Heretical, Brisen ) on the drums and me ( Glacial Fear, Schizo, A Buried Existence ) on the bass guitar.
Summon: Who writes the music? Lyrics? And where do the lyric ideas come from?
Tat0: The songs are designed to give way and liberty to every component to express and to bring own ideas, a skeleton is introduced and we works together for completing it … Much importance is given also to the texts, because they contain the gist of what is our purpose of making music, to communicate, for this reason usually music and texts are written or imagined of equal footstep during the song writing … the source of inspiration for the lyrics is certainly the experience of living in a place like ours, deep in southern Italy, where interpersonal war is daily … uneasiness extensible today on national staircase … is a deep hatred and resentment against everything that oppresses liberty of thought and liberty to be if same in a world ruled by hypocritical mask ….
Summon: What is your view in Satanism and Occultism?
Tat0: I would say that we are for the complete liberty of religion, but we are to support of the liberty and the respect for the next one also, and the two things cannot go together because of dogmas customs taboo and doctrines that the religions themselves impose to own followers… … naturally it speaks of everyone religion, beginning from that chatter in the Vatican to reach to that sectarian, a thing it is certain, that of sure we don't go to make the hunting to the witches…
Summon: How many albums/CD's have you released?
Tat0: We have in active a demo of the 2003 Dismembered Human Race, then U.V.A. a mini-CD gone out in 2005 and a full-length Gore gone out in the 2010, more two splits CD and some live video … in almost 10 years it is not perhaps very, but we are satisfied of what we have produced and above all is not ended yet …
Summon: Tell me about some the songs on the latest CD?
Tat0: I would speak about Slave of mind, the first song with the new line-up, and that it is also an advance of the upcoming disk; the song had been written a some time ago( as some of the songs that will belong to the same disk ) but had never succeeded in recording it … now we have taken back it played again and recorded in the turn of little time, and personally must say that it is exactly as we had imagined it !
Summon: Who are some of your musical influences?
Tat0: Of course we always prefer all extreme metal music, probably because this is the kind that comes closest to our mood …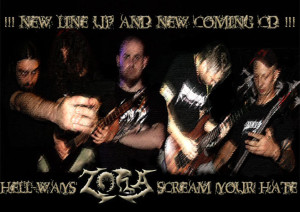 Summon: What is the band like when you play live?
Tat0: On live gig We are exactly the same people that we are in the life of every day, we live this aspect as a way to meet new people with which to share the same passion and as an occasion to directly shout in face what we think without resorting to mediums as can be a disk or a file in the web… nothing makeups of scene and nothing showcases, only instinct anger and fun!
Summon: Have you guys ever played in another country?
Tat0: Yes we have been to St. Pietroburgo (Russia) at Petrogrind fest and to Tirana (Albania)… fantastic experience … when we cross the Italian confinements we realize that place of shit is ours …
Summon: How big of crowd shows up at shows usually?
Tat0: In Italy to a concert underground, in a pub or in a club, the average of the people doesn't overcome the 80/100… but there is to consider that the metal is not diffused in Italy as in other countries, it is a kind deeply of niche … in the festivals naturally people increase and very much, but also these begin to expire unfortunately…
Summon: How is the crowd response when you play?
Tat0: We have had the possibility to play in much country of Italy and also out of our confinements meeting indeed always friendly and well-disposed people about our musical message, when people have a good time you perceive it from the exchange of sensations between the public and the band, a fantastic feeling!
Summon: What do you think of the US Black Metal/Death Metal scene?
Tat0: For me the true death metal is that been born in the States, as the true black metal it is that been born in the north Europe… in both cases except some exceptions … this because both the genres are sons of cults and traditions that belong to the countries of origin, exportable only in their external aspect … We listen much to the old school, always in our hearts, but we are also very careful to what can be interesting and innovative of the new exits … difficult thing indeed today …
Summon: What do you think of the Overseas scenes?
Tat0: We take her as an example because we see her more solid than that Italian … also in Italy it makes him good music but not c' it is a true scene, c' it is envy rivalry and so much hypocrisy… out from Italy also the music I feel it more genuine and more personnel and people are very more sincere
Summon: What are some of new favorite black metal/death metal bands?
Tat0: There are so many bands that surely would forget someone, we say are leaving a lot of good records this year, and also many disappointments … but if we want really to reveal a name, in my personal opinion, Cannibal Corpse they never deny him, they remain on the throne …!!
Summon: When do you guys plan on writing any new material?
Tat0: We are already working on new full-length titled "Scream your hate", we have released a single some time ago, Slave of Mind ( http://youtu.be/QLdpMF2To4g ), that it will belong to this new one album and now we are working on new recordings, 10 songs in all
Summon: What does the future hold for the band??
Tat0: We will always continue to have fun by cultivating this passion, even if is becoming difficult to have fun in an environment where the things go worse and worse, but until we will have to scream us will keep on playing!
Contact them at:
https://www.facebook.com/Zoraband/
https://myspace.com/zoraxperiment
https://www.youtube.com/user/bandZora
Giuseppe Tatangelo
Via Vomero n°4
89851 Ionadi ( VV ) – Italy
Cell : +39 328-0542131