Years Of Tyrants
"Leading The Blind"
2013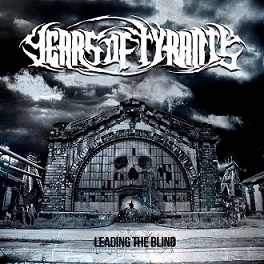 The are moments on this Cd when I thought, hrmm, this is what Dream Theater would sound like if they were sped up and had high intensity Death Metal drives. The staccato and syncopation especially adds to the Dream Theater similarity.
The guitar work, and bass sound great in all their technical flair. When used in proportion, I love to hear properly inserted arpeggios. The vocals are brutal and heavy.
The stand out for this Cd, which I RECOMMEND, is the power and use of the songs drives. You can throw a CD like this in and listen to the whole album. Unless your like me and will skip over any piano playing. Euthanasia and Through Infamy really stood out, but over the whole thing works.
Tracklist:
1. Stronger Than All
2. Through Infamy
3. Infestation Of Larvae
4. Interlude
5. Euthanasia
6. This World Is Our
7. Leading The Blind
8. This Is Meat
9. Of Those Who Wasted It All
https://www.facebook.com/yearsoftyrants
Members:
Leny Tusfey – Vocals
Brice Gauthier – Guitars
Benoit Peichert – Drums
Raphael Gallet – Bass
Michal L's – Guitars
Rating: 8 out of 10
~Alaric Hannibal Barca
alaricbarca.com