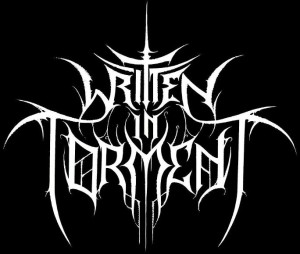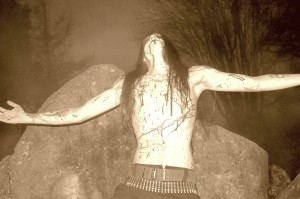 Summon: How did the band get started?
Leviathan: I started Written in Torment as a solo project in 2003 mainly to have complete control over every aspect of the music and presentation of the band.
Summon: What kind of music do you play?
Leviathan: I Would say Black metal but I have tried to incorporate all of my influences including shred guitar, thrash metal  and classical music.
Summon: How has the fan response been?
Leviathan: Reviews and fan feedback have been favorable and positive so far.
Summon: Where did the band name come from?
Leviathan: I Got the name of the band from a Megadeth song (Vortex) from the cryptic writings album. It seemed to perfectly encapsulate what the ethos of the project was to be.
Summon: Introduce the band members and what they do in the band.
Leviathan: Leviathan / All instruments/vocal/songwriting
Summon: Who writes the music? Lyrics?
Leviathan: See above
Summon: And where do the lyric ideas come from?
Leviathan: I Draw from many sources of inspiration for lyrics but I guess the biggest these days is simply human history. Fact is indeed stranger than fiction.
Summon: What is your view in Satanism and Occultism?
Leviathan: I have no particular opinion.
Summon: How many albums/CD's have you released?
Leviathan: An EP in 06 titled "The Uncreation" there is an as yet unreleased EP from 07 and finally my first full length album "Bellum Omnium Contra Omnes" is out on Glorious North productions May 14th.
Summon: Tell me about some the songs on the latest CD?
Leviathan: The album "Bellum Omnium Contra Omnes" contains the work I'm most proud of from the last 10 years. It was my intention to capture the spirit of the uncreation and subsequent material and expand on it. Obviously I have had a good few years to get better at my instrumentation and songwriting ability and have tried to incorporate elements usually unfamiliar to black metal, such as guitar solo's.
Summon: Do you have any side projects?
Leviathan: Not as of yet.
Summon: Who are some of your musical influences?
Leviathan: Bal-Sagoth, Dissection, Emperor, Abyssos, Mozart, Cacophony etc…
Summon: Which current bands?
Leviathan: Another glorious north band called Nordland are putting out some excellent material at the moment.
Summon: What do you think of the US Black Metal/Death Metal scene?
Leviathan: I judge bands on individual merit and rarely pay attention to country of origin.
Summon: What do you think of the Overseas scenes?
Leviathan: National affiliation is not the benchmark of quality for me, it is individual musicianship.

Summon: What are some of new favorite black metal/death metal bands?
Leviathan: I Tend to listen to mostly older band's these days and haven't payed particular attention to any new bands.
Summon: When do you guys plan on writing any new material?
Leviathan: I Write material constantly! I probably have another 3 albums worth of unreleased material ready to record.
Summon: What does the future hold for the band??
Leviathan: I strive only to make heartfelt music for personal enjoyment, So long as my interest in music doesn't disappear I should imagine the future holds many more Written in Torment albums!

Contact them at:
http://www.gloriousnorth.co.uk/
https://www.facebook.com/writtenintormentofficial
http://www.reverbnation.com/writtenintorment