Woodscream
Octastorium
Adulruna Records
Release Date: 31st March 2017
By: Pagan Hel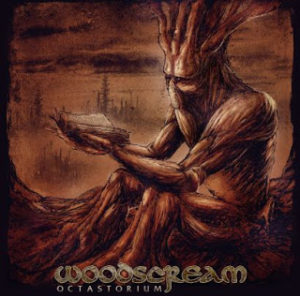 Woodscream –St Petersburg Russia
Links:
https://www.facebook.com/woodscream
Produced by Alexander Klimov.
Cover art and booklet design by Mayhem Project. Out now!
Genre: Folk Metal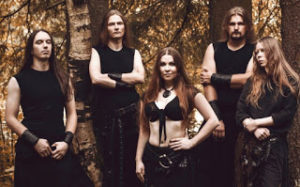 Biography:
Woodscream is probably the most outstanding band on the metal scene of Saint Petersburg (Russia). Band`s music presents a tuneful union of different styles of contemporary metal, incorporating different elements of European folk traditions and gloomy atmosphere of medieval legends, which are the solid basis of Woodscream lyrics. The band has already recorded 3 singles and mini-album «Pentadrama», which gained loads of favourable reports from listeners and critics from all over the world. Now the band releases their full-length album which is called «Octastorium» via Adulruna Records, Sweden. Woodscream distances itself from politics and religion!"
~~~~~~~~~~
The name Woodscream conjures up various images but one, in particular, is a gathering around a fire and hearing the wood literally scream as it is being burned, although it is not to paint a vivid horrific picture but just what the name conjures up in my head. It also says 'nature' in the most basic form.
Алан is a real foot tapper although no idea why they called it Alan. I am so glad the band are singing in Russian because it is a beautiful language despite being guttural in sound it really propels the track to great heights. Inflamed with monumental groove and on target harmonies, it reveals itself as both folk and metal orientated and a great track to boot!
Suvi (Slough) why anyone would want to sing about Slough I have no idea but this track is glazed with very favourable vocals – yes the deep grunting kind that is very, unexpected on a folk metal album, however, it is most welcome and very unusual. It makes me want to learn Russian so I can sing along! I can, however, grunt so all is not lost!
Ilxtup cgwi (King of the Forest) I am glad there was a translation for this as I wouldn't have a clue what it meant otherwise. It is an embracing track that catapults an unreserved rhythm straight through your soul. Valentina's vocals are clean, crisp and haunting.
An Dro has no translation so will just have to use your imagination and see what the track throws out! So far it has pumped out a bouncing rhythm that is moreish and beautiful. It is a track you can't help but want to move your whole body too. When the vocals kick in it slows its tempo slightly but still, holds a great temperament and once again back to the Michael Flatley foot tapping extravaganza.
Kuigri (Blacksmith) is a very twisting and winding road of growling maniacal vocals to a superb recorder that enhances the track. It gathers quick momentum and intoxicates with a rapid breath. The clean angry vocals introduce themselves and then the growling adventure begins – just loving this to bits! Favourite track by far, but they are all superb!
Cuwut (Raven) bristles with a haunting malevolent feel and quickly brews its own storm. It holds a hungry rumble in its belly and a fire in its heart as it drives a fierce rhythm that underlies a heartfelt vocal from Valentina.
Hui (Call) is a magnificent romp that is fast and delirious with plenty of swift absorbing textures that one can enjoy along with a great chorus and growling tirade to a full-on blend of metal and folk that is highly engaging. This will need a repeat or six!!!!
Witness of J this track really transports the past to present as it gathers its melodic speed and makes haste with its groove. It is just so hard to keep still when listening to this believe me – I have tried and find myself rocking from side to side as I get caught up in its compelling rhythms.
The idea of using female clean vocals and growls and screams within a folk/metal band is an absolute genius! It more than works, it works magnificently and really adds a certain clarity to the tracks and makes them very unusual indeed!
Definitely worth checking out!
10/10
Track List:
Алан (Alan)
Suvi (Slough)
Llxtup cgwi (King of the Forest)
An Dro
Kuigri (Blacksmith)
Cuwut (Raven)
Hui (Call)
Witness of J
Line-up:
Valentina Tsyganova – Vocals & Recorder
Alexander Klimov – Guitar & Screams
Ivan Budkin – Bass & Growls
Pavel Malyshev – Drums