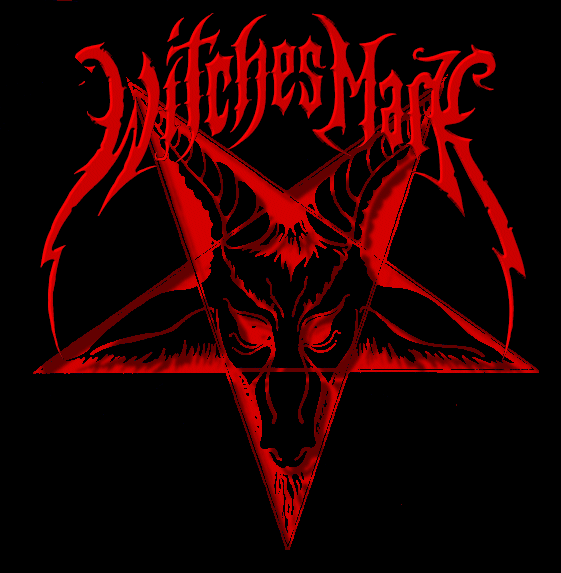 Summon: How did the band get started?
Robert: Witches Mark came together by sharing some of the same musical influences, mutual admiration for the true greats of heavy metal and a shared wealth of prior experiences playing in other bands. Speaking for myself, I knew all of the other guys in the band beforehand and had either jammed with them in other bands before or was well aware of what they were capable of. 
Summon: What kind of music do you play?
Robert: We are the "Bringers of Heavy Metal Death" we are ready to kill with our exclusive brand of metal. Want a lethal response? See us in concert.
Summon: How has the fan response been?
Robert: Our fans support us and we support them. The reception for our new album "Witching Metal Ritual" has been nothing short of incredible and mark my words, we were just getting started.
Summon: Where did the band name come from?
Robert: To bare the mark of the witch is in a way a bit similar to being a metalhead. You know, society is gonna cast judgment on you or view you a certain way just because you bare the mark. Embracing it, owning it is a middle finger to the establishment. We've always been proud of who we are.
Summon: Introduce the band members and what they do in the band.
Robert: Robb Bockman sings the clean vocal parts and plays guitar. Andy Gonzalez plays bass. Scott Palmer is on the drums and I play guitar and handle the harsh vocals. 
Summon: Who writes the music? Lyrics?
Robert: I have handled most of the songwriting on our first two albums. On our latest album "Witching Metal Ritual" Robb wrote the track "Swarm" and we wrote "Bringers of Heavy Metal Death" together. Robb and I write most of the lyrics.
Summon: And where do the lyric ideas come from?
Robert: The dark alleyways and gutters of our diseased minds.
Summon: How many albums/CD's have you released?
Robert: We released "A Grim Apparition" in 2009 and "Witching Metal Ritual" this past June. We've also been featured on various compilations and we should be releasing a split vinyl with Twisted Tower Dire sometime in 2014.
Summon: Tell me about some the songs on the latest CD?
Robert: "Bringers of Heavy Metal Death" opens the album in a fiery post apocalyptic smog filled haze of sadistic thrash. "Swarm" is a commanding, skull crushing march of death. "We Die" is probably the doomiest thing I've ever wrote. It's fucking heavy. "Slaves To Their Own Sin" is menacing and barbaric, demonically possessed sounding. "Witching Metal Ritual" is anthemic and melodic, a real double kick blasting powerhouse of a track and my favorite to perform live.
Summon: Do you have any side projects?
Robert: I don't have any side projects but the other guys play in other bands.
Summon: Who are some of your musical influences?
Robert: Manowar, Judas Priest, Iron Maiden, Angel Witch, Black Sabbath, Candlemass, Destruction, Kreator, Venom, RIOT, Mercyful Fate, Bathory the list goes on and on. Uli Jon Roth era Scorpions and Yngwie Malmsteen. 
Summon: Which current bands?
Robert: The American underground metal scene has got some amazing talent right now with bands like Death Dealer, Twisted Tower Dire, Brute Forcz, Ignitor, Skelator, Power Theory, Kantation, Attacker, Jack Starr's Burning Starr and Hirax. There's a lot of cool stuff happening over here right now and we're really proud to be a part of it. Almost anything Toby Knapp is on (Onward, Waxen, Godless Rising) that guy's fucking brilliant.
Summon: What is the band like when you play live?
Robert: An intense engagement of neck-snapping fury and heavy metal guitar pyrotechnics. You might have started banging your head the second we started playing our instruments but to properly put things in perspective try and keep in mind that kicking your ass was the first thing we thought of since we opened our eyes in the morning. We're always playing for keeps.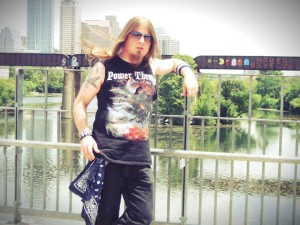 Summon: Have you guys ever played in another country?
Robert: No. We've covered a lot of ground here in the U.S. and we will be performing at the main stage of this year's Ragnarokkr Festival in Chicago this coming April alongside Grim Reaper, RIOT V and Hallow's Eve. We're a little heavier than most of the bands on the bill at Ragnarokkr so for all of the people that turn out expecting to bang their heads to a bunch of band's that sound like the first Fates Warning album, they are gonna be in for a pleasant surprise when we take the stage, to say the least. As far as playing overseas, if we received the right offer from a verifiable promoter in another country than of course that would be something we would be interested in pursuing.
Summon: How big of crowd shows up at shows usually?
Robert: It really varies. One night we played at a dive bar in Seattle to a smattering of twenty to thirty people and then you have the better organized type gigs or hometurf crowds where it's easier to draw a couple hundred on a good night. It's underground metal. We're not playing to Rock In Rio size crowds anytime soon. Just the die hard's and that's fine by us.
Summon: How is the crowd response when you play?
Robert: Why don't you judge for yourself? You can find our videos on YouTube. Just type in Witches Mark.
Summon: What do you think of the US Black Metal/Death Metal scene?
Robert: I think death metal fans need to remember where they came from and what this music is about and reject any form of core in their metal. 
Summon: What do you think of the Overseas scenes?
Robert: I think that they do what they do and they do it well and that's great but I'm proud to be in an underground American heavy metal band and America is where the current talent pool in underground metal is currently residing. This is an exciting movement to be a part of and I have no illusions that the grass is greener anywhere else. 
Summon: What are some of new favorite black metal/death metal bands?
Robert: I think Watain are a really great band and I dig that they used to jam with Jon from Dissection. I was a big fan of that band.
Summon: When do you guys plan on writing any new material?
Robert: We're already writing new music. As we speak. There will be some various things released in 2014. You'll have to stay tuned. www.facebook.com/witchesmarkband
Summon: What does the future hold for the band??
Robert: We will continue down this path. We will continue to pay tribute to the greats, to honor the craft and evoke the ideals of what makes metal music timeless. We live for this music and we know nothing else in life. This is our collective calling and five days or five years from now that is what you will find us doing. To all of your readers out there join us! Order our new CD "Witching Metal Ritual" and feel the mark of the witch! http://www.soundsofpurgatory.com/Witches+Mark+%3A+Witching+Metal+Ritual+PVlETnpFRE14b0RkalZIWnZKSGM
Contact them at:
https://www.facebook.com/witchesmarkband
http://heavenandhellrecords.bandcamp.com/album/witching-metal-ritual
https://myspace.com/witchesmark
http://www.reverbnation.com/witchesmark