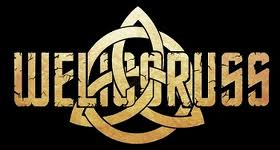 Summon: How did the band get started?
Alexey: Hi! It all began in 2002 when I had a one-man band, I wrote the music alone. I released some demos and after a while my friends have advised me to create the band and play music alive, I thought – well why not, and began to search for people. I`ve considered a lot of candidates, and line-up became a permanent part gradually in 2007-2008. In this new line-up, we recorded a first album «WinterMoon Symphony» at Tonhammer Studio and published it on the Russian major metal label CD-MAXIMUM. There were several tours in supporting of album and soon we released the second album called "Apeiron" on the same label. Then we had a break, changing of line-up, reinterpretation of musical values ​​and releasing of a new single, "Kharnha". This our biography in short version!
Summon: What kind of music do you play?
Alexey: Everybody define our music differently, generally speaking – symphonic metal and if you delve into the details it is symphonic pagan / black metal. But we do not want to drive themselves into the limits, we love to experiment in sounding and mixing of styles so may be after a couple of years we'll be playing some other music. In any case, our goal – to play from the heart.
Summon: How has the fan response been?
Alexey: Sufficiently vigorous. The releasing of each album is a kind of emotional outburst.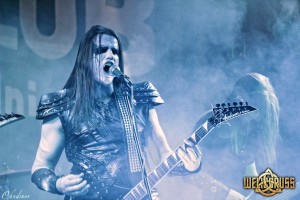 Summon: Where did the band name come from?
Alexey: The name comes from the history – it used to be called revolutionary leaflets distributed in the 19th century by Russian philosopher Chernyshevsky. For Us the name is very significant and also shows in its root of word from which country we came from.
Summon: Introduce the band members and what they do in the band.
Alexey: Well, I am – Alexey Boganov – the founder of the band, creating the concept and all songs, guitar and vocals.
Ilya Chursin – drums, percussion, sound engineering. Boris Voskolovich – keyboards, backing vocals, arrangements.
Max Fomin – guitars, guitar solos.
Alex Boldin – bass guitar.
Summon: Who writes the music? Lyrics?
Alexey: I write the main frame and the main ideas of songs, then all the other musicians contribute their ideas and pass it all over themselves. I and our stylist Anastasia Kriger write all lyrics primarily, it so happens that the other musicians help in their correction too.
Summon: And where do the lyric ideas come from?
Alexey: The basic ideas go out of my head) It`s what I usually think of. This usually occurs after reading any books, nature walks as well as after significant events in his life. But speaking in general about the themes – all songs dedicated to the mysticism of ancient Russia, the mystery of the hidden side of life as a whole, the cosmos and man's place in it.
Summon: How many albums/CD's have you released?
Alexey: As I said before our debut album «WinterMoon Symphony» was released in 2008 and is dedicated to elements of winter and the Siberian nature. In 2009 we released an album titled «Apeiron» – it is largely devoted to the philosophy and the cosmos. In 2011 our new single "Kharnha" appeared in the network in presaging a new full-length album in 2012, it was thoroughly permeated with mysticism and the occult. In general it should be interesting).
Summon: Tell me about some the songs on the latest CD?
Alexey: The latest release (online single) is called "Kharnha" and includes 3 new songs. Main title song – "Kharnha" tells the story of warrior who died on the battlefield, where he was taken by the ancient Slavonic goddess of grief called Kharnha into the underworld. At the time, as they walked to the armor of Gods they met the wondrous creatures and before them opened various landscapes. Finally they achieved the place and the hero dressed in a suit of Gods armor – he was back on the battlefield and has full power, he defeated the enemy. The whole story you can see in the form of our new video on YouTube).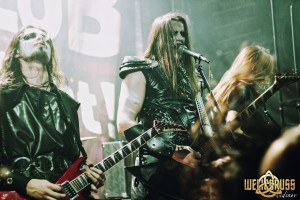 Summon: Do you have any side projects?
Alexey: At the moment I have no other projects because band takes a lot of time. But our other musicians have projects. Ilya also plays in local band Ungraved and he has his own project ELIAS project, which incidentally has recently released a quite stunning album in ethno-metal style. Also our guitarist Max plays in a band Frozen Myst and also has his solo project. Keyboardist Boris works in several projects – WelicoRuss, his solo project and Unstable Perception.
Summon: Who are some of your musical influences?
Alexey: All musicians have slightly different musical interests, I – a lover of classical symphonic music, symphonic metal, folk, pagan. Other musicians like the more progressive styles of jazz, classical.
Summon: Which current bands?
Alexey: I'll list bands that are generally liked by all musicians – Dimmu Borgir, Symphony X, Therion, CoB, Nightwish, Dream Theater, Aghora, Inflames, Arkona, Robert Rich, Deep Purple.
Summon: What is the band like when you play live?
Alexey: All this can be seen on our live videos, it is quite expressive show. You a must see it, it is difficult to describe in words.
Summon: How big of crowd shows up at shows usually?
Alexey: It happens differently depending on the city, promoters and many other conditions. Naturally, if this is a great festival – it`s much more.
Summon: How is the crowd response when you play?
Alexey: Usually we get a very warm welcome when the crowd set upon us. It so happens that it just explodes).
Summon: What do you think of the US Black Metal/Death Metal scene?
Alexey: I do not know American black metal scene, but death metal from your country is very popular and loved here in Russia – from the iconic Death and Obituary and ending with Morbid Angel.
Summon: What do you think of the Overseas scenes?
Alexey: Because of Russia is close to European countries it is certainly left a big imprint on attitudes and tastes of the Russian metalheads. We are very close to Scandinavian music for example. The mythology of the Slavs and Vikings for example is very close so Scandinavian music is loved here.
Summon: What are some of new favorite black metal/death metal bands?
Alexey: Frankly, we do not search much for new bands. Now they are appearing everyday and it is difficult to keep track of all the releases, mainly we watch for the old bands)
Summon: When do you guys plan on writing any new material?
Alexey: Right now we're in the studio and recording a brand new album, which our fans demanded from us since a long time. If all goes well – in May 2012 it will see the light!
Summon: What made you want to be in this band? And if you weren't in this band what would you being doing now?
Alexey: As for me – band is my life, way of self-expression. Someone is writing poetry, and someone riding on a skateboard, but I like to play our songs on the stage for people) It is difficult to say who I was if there were no band, perhaps an artist or designer. Maybe even a music video maker.
Summon: What does the future hold for the band??
Alexey: We have recently completed work on a new video, now we're recording an album, then we will have promotional campaign and plans to shoot another video, and then go on tour in Russia, CIS and Europe! So see you at our gigs!
Contact them at:
http://welicoruss.com/
http://myspace.com/welicoruss
http://www.facebook.com/pages/WELICORUSS/31383996834