Wargrinder
"The Seal of Genocide"
2012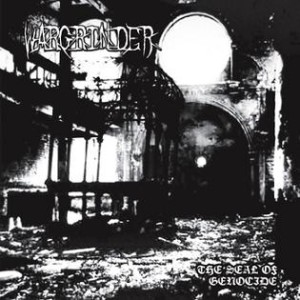 According to Metal Archives this a Greek One man Blackened Death Metal band (check the Facebook page and it has two but I'm thinking when this was recorded it was just Warhead on his lonesome) Lets set the record straight here when it comes to this type of thing, when it comes to one man bands they usually are hit or miss right? Now when its a one man Black Metal band it can be total shit 9 times out of ten but there are exceptions to the rule obviously such as the awesome Haeresiarchs Of Dis but when it comes to Death Metal (or shall I say Blackened Death Metal in this case) can it be done? Well in this case yes it can, this is total Morbid Angel / Angelcorpse worship of the highest order and done with plenty of aggression.
From the first few tracks alone the riffs could have been lifted straight from Angelcorpse's " Hammer Of Gods " or " Exterminate", the vocals too are of the Pete Helmkamp variety too which add the Old School feel to this.
The production is the right kind of dirty and there is enough variation of the tracks on offer here to keep this interesting enough.
Worth picking up and an enjoyable blast of Blackened Death Metal goodness, recommended!
Tracklist:
1. A Burning Idol
2. Swallowed by Silence
3. Tombs of the Unborn
4. Shattered Pride
5. Golden Statue of Virtue
6. Hollow Grace
7. Ignorant Worms
8. Upon the Altar of Purification
9. King of a Fallen Age
10. Leader of Promise
11. Scortched Abbatoir
12. The Seal of Genocide
13. The Principles of Ancient Discipline
https://www.facebook.com/pages/Wargrinder/366105636773887
Members:
Warhead – All Instruments/Vocals (on this recording)
TFZ – Guitars
Rating: 8 out of 10
~Death Metal Andy