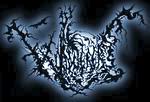 Wanderer
"Bypassing the Abyss"
2012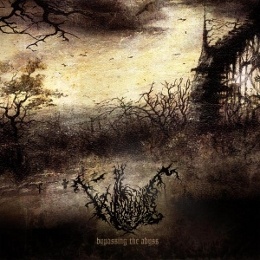 This had all the elements about Black Metal that I love: The fuzzy guitars, some keyboards tastefully employed but kept to a bare minimum, clattering drums that pummel away and of course the vocals that range from shrieks and howls of the Bethlehem / Sterbend variety (which I get a boner over any day and the highlight of this album for me) and of course there are some really good low end growls for good measure too.
I can't say enough good things about this, from the start the intro has a nice brooding/haunting element to it with the keyboards setting the tone then the sheer sonic assault kicks things into overdrive.
This album has its fair share of awesome songs and they flow beautifully through out the album, " Shades of Destiny" in particular has great structure to it as it starts off at full tilt and gives way to a nice mid paced section adding atmosphere (the vocals after the midway part gave me goosebumps).
The riffs on here have that Abyssic Hate feel to them (think Suicidal Emotions) and some Veles quality to them albeit it this is better produced than Veles ever were.
I particularly loved " Angel Bury " and " The Underworld " tracks as they sounded Blasphemous and Evil as Hell, I will be spinning this for a long time to come and I will be seeking out my own copy of this, excellent and chaotic Black Metal with plenty of variation. I wholeheartedly recommend this hence the top marks in the scoring department, go seek out!!!
Tracklist:
1. Intro
2. Disapperaring in the Mist
3. The Shadow of Destiny
4. Bypassing the Abyss
5. Sacrifice to the Ritual Fire
6. Burial Angel
7. The Otherworld
8. In the Swamps Pool
http://www.metal-archives.com/albums/Wanderer/Bypassing_the_Abyss/422689
Members:
Wanderer Dragonheart – Bass/Guitars/Drums
A. Raven – Vocals
Rating: 10 out of 10
~Death Metal Andy