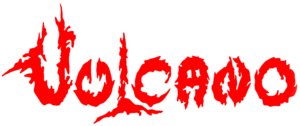 Recognized worldwide as the pioneer of "Extreme Metal" in South America, and endorsed by the success of the last four touring the vast European continent, VULCANO complete in 2016 thirty-five years of career and thirty years of his most famous album "Bloody Vengeance ".
During this period, the band produced twelve unreleased albums, two singles 7″ eight "split albums" with other Brazilian bands and European, in addition to an official DVD.
Alternating the weight and density of Black Metal with the speed and brutality of Death Metal, Vulcano forged his sound identity when these sub-genres have not existed, and so are often cited as influencing the new generation of "Extreme Metal". This band of gentlemen "fifties" does not show any fatigue, only the last three years, they launched no fewer than four albums – The Man; The Key; The Beast (2013), Wholly Wicked (2014) LIVE II – Attack Stockholm (2014) and The Awakening an Ancient and Wicked Soul (2014).
During the important 2015 the VULCANO composed music for another unreleased album, which will be released in the current year, participated in the most important extreme music festival in the United States – Maryland Death Festival, and another American South tour that began in Erechim, south, and went through Asuncion in Paraguay, Santiago in Chile, Ecuador and Colombia, before embarking for Europe again.
The year 2016 began with all, and the new album announcement, a tour in Europe (the longest of his career), the band was deservedly honored with a full documentary about his story produced by Vladimir Cruz and Rodney Assunção.
The VULCANO announced the return of Carlos Diaz, assuming four strings and the entry of a new guitarist, Gerson Fajardo, longtime friend of the band.
At the beginning of 2017 the band finishes the long awaited new album debuting the new studio formation, "XIV" arrives with the difficult mission to surpass the well received "Wholly Wicked" (2014), mission very successful. The new full length marks the group's new tour that will soon be announced.
Formation:
Zhema Rodero – guitar (since 1981)
Gerson Fajardo – guitar (2016 – present)
Arthur Von Barbarian – Drums (since 1987)
Luiz Carlos – vocals (1997-1999, since 2010)
Carlos Diaz – bass (2006 – 2013, 2016 – present)
Discography:
1983 – Om Pushne Namah (Single 7")
1985 – Live! (LP/CD)
1986 – Bloody Vengeance (LP/CD/DVD)
1987 – Anthrophofagy (LP/CD)
1988 – Who are the True (LP)
1999 – Ratrace (CD/LP)
2004 – Tales from the Black Book (CD/LP)
2006 – Thunder Metal (Split Single 7"/ MCD)
2009 – Five Skulls and One Chalice (CD)
2011 – Drowning in Blood (CD)
2013 – The Man; The Key; The Beast (CD)
2014 – Wholly Wicked (CD)
2014 – LIVE II – Stockholm Attack (LP Vinyl)
2014 – The Awakening an Ancient and Wicked Soul"
2017 – "XIV" (CD)
Websites:
Fotos em Alta Resolução
http://www.vulcanometal.com/release.htm
Official Web site
http://www.vulcanometal.com/
Official video clip
http://www.youtube.com/watch?v=Of4fqBTOGZg
http://www.youtube.com/watch?v=_eSiCDERklI
facebook
https://www.facebook.com/VULCANOMETAL?fref=ts