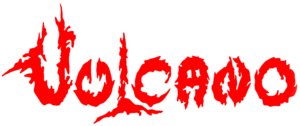 Summon: How did the band get started?
Zhema Rodero: Vulcano started 36 years ago trying to play a dirty and raw heavy metal, in 1983 we recorded a single 7″ showing this kind of music, than in 1984 we released our first demo-tape "Devil on my Roof" drawing the first steps of extreme Metal in Brazil. From there to nowadays were 14 albums released.
Summon: What kind of music do you play?
Zhema Rodero: I don't know exactly, but the most people say VULCANO play Death/Thrash Metal. In the beginning we were labeled "Black Metal" and soon as the second wave of Black Metal appeared the fans called us Death Thrash Metal.
Summon: How has the fan response been?
Zhema Rodero: Vulcano have a thousand fans around the world, not like the mainstream bands, but enough to keep us on the road until nowadays. We are play yet, because we have support of those fans.
Summon: Where did the band name come from?
Zhema Rodero: Is a very complex story that would take a lot of your time. Suffice it to say that the name comes from an interpretation of the "The Magic Square of the Sun"
Summon: Introduce the band members and what they do in the band.
Zhema Rodero: Arthur "von barbarian" the drummer, Luiz Carlos Louzada vocals, Carlos Diaz on the bass, Gerson Fajardo guitar and me Zhema on the guitar.
Summon: Who writes the music? Lyrics?
Zhema Rodero: Usually this is my job, I write the songs and lyrics.
Summon: And where do the lyric ideas come from?
Zhema Rodero: I usually write about a theme for each album and I can say you I have an ease in doing this, because I usually read many books, especially philosophy, occultism, alchemy, something like these.
Summon: What is your view in Satanism and Occultism?
Zhema Rodero: They are different and antagonistic subjects. The occult holds deep philosophical knowledge which the Church has tried to obscure and make them evil practices, whereas Satanism exists only because it was created by the revealed religions.
Summon: How many albums/CD's have you released?
Zhema Rodero: 14 albums, 7 on vinyl version and 7 CD.
Summon: Tell me about some the songs on the latest CD?
Zhema Rodero: The theme covered in this album is the one-sided covenant of a God to his chosen people where faithfulness and faith are angrily kept with curses, destruction, blood sacrifices and cruel punishments, a vengeful and cruel God reigning through fear. You can listen it on "Behind the curtains", "Thou shalt not kill" and "Paradise on holocaust". Also some songs, the theme permeates the ecstasy of the soul of a true "headbanger" with its intrinsic nature in the exaltation to Metal, pure and honest like on "Thunder Metal", "The Tides of Melted Metal".
Summon: Do you have any side projects?
Zhema Rodero: No in current days, 10 years ago I played in a tribute to Creedence Clearwater Revival and played in an authorial band called TALAVERA, you can find something in youtube.
Summon: Who are some of your musical influences?
Zhema Rodero: I'm totally into the old school metal from 80's when we are talking in influences.
Summon: Which current bands?
Zhema Rodero: Imperial Jade, Red Razor, Warfact, many!
Summon: What is the band like when you play live?
Zhema Rodero: We try to bring a nice show to the people who are watching us and for this we give 110% of ourselves. I can say that we have managed exceed expectations.
Summon: Have you guys ever played in another country?
Zhema Rodero: Yes we did 5 tours through Europe, north, south, east and west including Scandinavian. We did tour in South America and now we are going to Mexico and Central America in this year. We play just one gig in USA.
Summon: How big of crowd shows up at shows usually?
Zhema Rodero: Usually, 500/600 but it's exist big events and Festival over 1.000 and small gigs 50.

Summon: How is the crowd response when you play?
Zhema Rodero: Our biggest audience happened in 1986 when we played Exciter, Venom and Vulcano here in Brazil.
Summon: What do you think of the US Black Metal/Death Metal scene?
Zhema Rodero: Sorry but I don't know much about the American scene, only that it focuses on Florida and something in Texas, Am I right?
Summon: What do you think of the Overseas scenes?
Zhema Rodero: Okay, now I'm talking about out of my country, Brazil. I think the European scene is very strong and there is something new and interesting going on in Sweden. I also think that Spain and Italy are doing very well in the Metal scene. I don't know about the Mexican and American scene, and I can say that in South America there is a great growth of bands.
Summon: What are some of new favorite black metal/death metal bands?
Zhema Rodero: Sorry, but I'm stopped in time.
Summon: When do you guys plan on writing any new material?
Zhema Rodero: We just recorded our latest album XIV. It is expected to launch by January 31st.
Summon: What does the future hold for the band??
Zhema Rodero: A short tour through Mexico and Central America and a New and more long tour in Europe in this year. Maybe we start to write new songs for a future album in 2018. We are an old band, you know, and our plans are short.
Contact them at:
http://www.vulcanometal.com/
http://www.sanguefrioproducoes.com/bandas/Vulcano/20
https://vulcanometal.bandcamp.com/
https://www.youtube.com/user/OFFICIALVULCANO2011
http://sanguefrioproducoes.com/loja/30-vulcano
https://www.facebook.com/VULCANOMETAL/?fref=ts