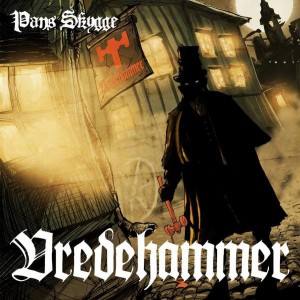 Summon: How did the band get started?
Per: I started the band in march 2009 out of boredom. At the moment I was a member of a band called Elite which you might have heard of. I guess I felt that I wanted to broaden my horizons a little and also take care of the singing myself, so I started Vredehammer.
Summon: What kind of music do you play?
Per: We play extreme metal with a touch of folk to it. I try putting an effort into the music to not make it sound like any band you've heard before and based on the feedback we've had so far, it seems to be working.
Summon: How has the fan response been?
Per: The response has been very good and our fan-base keeps growing everyday. Since we just released our third EP "Mintaka", I expect that our name will grow even bigger until we release are coming full length album.
Summon: Where did the band name come from?
Per: It popped into my head from out of nowhere one night i was having a beer at a local bar.
Summon: Introduce the band members and what they do in the band.
Per: Per Valla (guitars, vocals, songwriter) ex-Elite and lead guitarist in Allfader, Kristoffer Hansen (bass-guitar, songwriter) also singer/guitarist in his own project Imperial Guards and Cato Skivik (drums) Also plays drums in Allfader.
Summon: Who writes the music? Lyrics?
Per: Per Valla (me) does most of the songwriting so far, but Kristoffer is growing fast as a musician and will surely be an important songwriter in the band in the future. All the lyrics are written by Per.
Summon: And where do the lyric ideas come from?
Per: The lyrics are mostly based on personal philosophy, but sometimes they are written just for the sake of sounding cool! Hehe
Summon: What is your view in Satanism and Occultism?
Per: That stuff was exciting when we were younger but now it's all about writing good songs and growing as musicians. We are not into any religion or politics.
Summon: How many albums/CD's have you released?
Per: We just released our third EP and are now working on our first full length album which hopefully will be finished sometime this coming fall.
Summon: Tell me about some the songs on the latest CD?
Per: I think the last release shows a natural progression of our songwriting-abilities and also our growth as musicians. This release was based on getting straight to the point and kicking ass all the way from start to finish. Did we succeed? I think we did!:)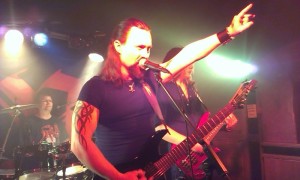 Summon: Do you have any side projects?
Per: Not really. Like I mentioned, we play in other bands Allfader and Imperial Guards, but these are important to us, so I wouldn't call them side projects.
Summon: Who are some of your musical influences?
Per: Everything from Mike Oldfield to Cannibal Corpse. But like I also mentioned earlier, we try to have our own sound. But energy-wise I suppose we try to recreate some of the stuff our are doing.
Summon: Which current bands?
Per: Our bass player Kristoffer is a big fan of Behemoth, Nile and Dimmu Borgir. Cato likes really extreme stuff that I sadly can't recall the manes of, but it's definitely in the death-metal genre. I myself am a big fan of Dream Theater, Symphony X and Nevermore to name a few.
Summon: What is the band like when you play live?
Per: We SUCK! Hehe no, I think we give the audience what they want with a nice combination between humor, aggression and quality playing.
Summon: Have you guys ever played in another country?
Per: Yes, we've played most of Europe, but this far we haven't been played on any other continents.
Summon: How big of crowd shows up at shows usually?
Per: That really depends about the size of the arena, but we usually fill up the venues.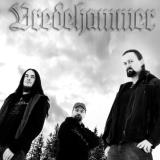 Summon: How is the crowd response when you play?
Per: We get pretty technical at times and this makes people stop and just watch us. Other times we just fuckin rock, making the people go nuts hehe. But people always approach after shows giving us positive feedback.
Summon: What do you think of the US Black Metal/Death Metal scene?
Per: It's great of course! You have some of the best extreme metal bands out there!
Summon: What do you think of the Overseas scenes?
Per: Although there are similarities, there is a certain feeling of uniqueness in bands from different countries. One is often able to hear if a band is American, Polish or Swedish.
Summon: What are some of new favorite black metal/death metal bands?
Per: The only one I can think of myself must be keep of Kalessin. They offer something new and interesting, and that's important to me. I'm pretty sure the other guys in the band would say the same, but they probably have more favorites than me.
Summon: When do you guys plan on writing any new material?
Per: We've almost finished writing the upcoming album!
Summon: What does the future hold for the band??
Per: I have high hopes and a strong will, so I think the future holds a hell of a lot for us. We'll see if I'm right!.
Contact them at:
https://www.facebook.com/Vredehammer
http://www.myspace.com/vredehammer
http://www.youtube.com/watch?v=eBxpkSBqGtc