Vomithor
"DEMOnium"
2012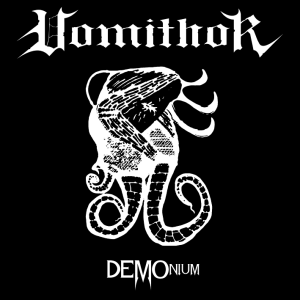 Hailing from Chile we have Vomithor, who have crafted a nice little 3  track demo of Old School Death Metal with some nice thrash leanings for good measure.
Its never easy reviewing a demo sometimes , especially when there are only 3 tracks on offer , you just don't get the overall feel as to say a full length album. What i can say though is that this has some good thought out riffs , up front drums and has nice , crisp production values to it.
Think of Unleashed albeit a bit more technical and with some Slayer-isms thrown in for good measure and you have a good grasp of what these guys are going for. Its not going to set the world on fire but this is very promising in its delivery and conviction.
Tracklist:
1. Land Of Death
2. Forgotten Humanity
3. Just Humans
http://www.metal-archives.com/bands/Vomithor/3540354230
Members:
Pablo Villa – Guitars
Rodrigo Brissos – Guitars/Vocals
Daniel Hermosilla – Bass
Carlos Retamales – Drums
Rating: 7 out of 10
~DeathMetalAndy