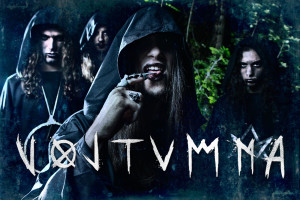 Summon: How did the band get started?
Michele: Voltumna was forged in 2009 by Michele Valentini on guitars, drummer Bruno Forzini and Manuel Bannella on bass, later joined by the vocalist Simone Scocchera, at the centre of Italy in the lands where the Etruscan civilization thrived.
Summon: What kind of music do you play?
Michele: We mix old school Death Metal and Black Metal with some parts of Deathcore Breakdown Some people define us Black-core but we define our music Etruscan Death/Black Metal.
Summon: How has the fan response been?
Michele: Great! Each live we do, the fan response grows up and  also for the CD and t-shirt sales is the same.
Summon: Where did the band name come from?
Michele: Voltumna was the name of Earth god in ancient Etruria, he was the most powerful and revered god and he represented the fertility and the reborn. We come form this places and it is for this reason that we called us Voltumna.
Summon: Introduce the band members and what they do in the band.
Michele: Early we are 5 members, since the recordings of our full-length we are 4:
Simone Schocchera – Vocals
Michele Valentini – Guitars/Backing Vocals
Giovanni Tomassucci – Bass
Bruno Forzini – Drums
Summon: Who writes the music? Lyrics?
Michele: All the instrumentalists write the song but at the moment only Simone Scocchera write the lyrics.
Summon: And where do the lyric ideas come from?
Michele: Our lyrics talk about Etruscan Paganism and Mythology and also Modern Decay.
Summon: What is your view in Satanism and Occultism?
Michele: The members of the band don't believe neither in Satan nor in God, it's the same shit and slavery. We believe in ourselves. We like occultism and esotherism, some members of the band practice it.
Summon: How many albums/CD's have you released?
Michele: Voltumna released 1 EP titled CHIMERA in April 2011 and 1 Full-length titled DAMNATIO SACRORUM, produced by Paolo Pieri (Hour Of Penance / Aborym)  released in Italy on 8th march 2013 and worldwide it will be released by Abyssus Records (UK) on 2nd September 2013.
Summon: Tell me about some the songs on the latest CD?
Michele: We love all our songs but in particular two songs: Lord Of Mayhem, Aruspice
Lord of Mayhem tells about the great etruscan demon Tuchulcha and his reigns before the roman conquest. Aruspice tells about the priests of ancient Etruria and their particular rites!
Summon: Do you have any side projects?
Michele: Giovanni Tomassucci plays the guitar in the thrash metal band Enforces
Summon: Who are some of your musical influences?
Michele: Our influences come from the black metal scene in Scandinavia and black/symphonic  in Greece with bands like: Dissection, Dimmu Borgir, Behemoth, Septicflesh.
Summon: What is the band like when you play live?
Michele: The band is theatrical and brutal (like Fleshgod Apocalypse). We play every live dressed with our priest tunic like the Aruspice in ancient centre Italy during their rites.
Summon: Have you guys ever played in another country?
Michele: Unfortunately, at the moment no. But in March 2014 we will play in a UK Tour and for the end of 2013 in a Russian Tour, preparing another tours in Europe.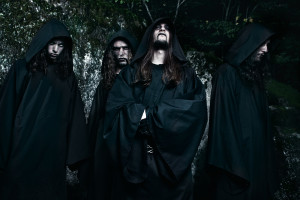 Summon: How big of crowd shows up at shows usually?
Michele: In some horror festivals crowd was about 500-600 people but we would like to play in bigger Metal Festivals worldwide front of thousand people.
Summon: How is the crowd response when you play?
Michele: The crowd is enthusiastic because we are brutal headbangers on the stage and our theatricality make them crazy!
Summon: What do you think of the US Black Metal/Death Metal scene?
Michele: There are some bands that we like a lot, and we think it's big scene in growth, sooner or later will return to the high.
Summon: What do you think of the Overseas scenes?
Michele: Fantastic scenes, a lot of Brutal bands and Black Metal bands that we saw live in Italy and they fucking broke ass!! Amazing 
Summon: What are some of new favorite black metal/death metal bands?
Michele: Melechesh and Noctem over all.
Summon: When do you guys plan on writing any new material?
Michele: Just NOW!! The band Voltumna is at work to write new materials from the next album, great news later.
Summon: What does the future hold for the band??
Michele: As said before a UK and Russian Tour, another Tour in Italy and the worldwide release of our first full-length Damnatio Sacrorum. We hope to bring Voltumna in USA as soon as possible.
Contact them at:
https://www.facebook.com/voltumna
https://www.reverbnation.com/voltumna
https://twitter.com/Voltumnametal
https://www.youtube.com/user/VoltumnaMetal