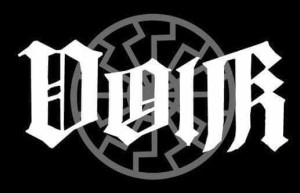 VOLK was formed in 2009 in Toronto Canada. Already written considerable amounts of material, vocalist/composer: Christopher Control (ex Nietzschian Reprisal) found the solid beginnings of the band upon meeting guitarist Martin Drozd ( then, and now in Protokult).
Under the original name : WotansVolk, the two forged ahead with many temporary members writing Pagan black metal out of worship of bands such as Burzum, Arkona, Summoning, Kroda etc.
As time progressed the whimsical influence of paganism no longer offered sufficient fuel for inspiration – this, coupled with the global explosion of the Pagan metal genre forced the band now completed by Joey Feral (desakratewhore) on bass, and Colin -the Goat – Miller (ex ischemic) to buck the trend and trailblaze ahead with a new direction.
With his head buried deep in George Orwells' 1984, and Animal Farm Christopher Control had the tools he needed to create a dark world of his own where the story of Volktalitarianism was born in his mind. Thusly WotansVolk became no more. And the VOLK were spawned.
The volktalitarianism e.p. is nearly 40 minutes of crushing metal, combining residual Pagan elements (to lay them to rest) and lyrical themes/ music that brings us towards the next dimension of what will be a very frightening concept album in the new year.