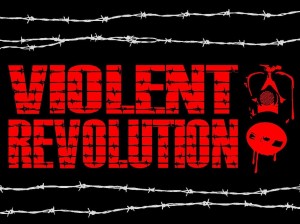 Violent Revolution
"Damaged Society"
2015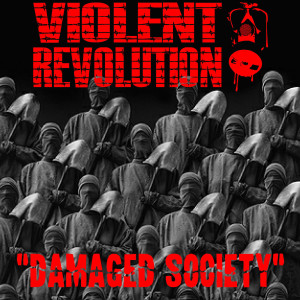 Are you fed up with the bullshit going on today? Have you had it? If you are ready to stand up and fight for what you believe in, you need to put your ears not only to the ground but into some pretty sweet crossover thrash metal coming out from Phoenix, AZ. Violent Revolution is a heavy-hitting thrash band that has all the old school thrash feels, tied with new aggression.

We have just as many things to be frustrated with in this society and it's time for us to band together and face what's in front of us. Time to start the revolution!

The Damaged Society demo starts off with no apologies, the first song we get is the heavy straight-forward thrash pledge, 'Damaged'. Guitarist and lead vocalist, Don Funk, pile drives into you with defiant vocals reminiscent of Tom Araya but filled with more spite instead of speed. Straight forward lyrics provided with his vigor really gives us a great perspective of all that awaits in this album. Guitarists, Nate Garduno and D. Funk come at you hard with their crunchy staggering riffs keeping your ears perked. A sweet solo in this opening track leads us into the final verse and chorus when suddenly the song takes a sharp, unexpected right turn into awesome, bringing the dynamic song full circle. This first track lets you know Violent Revolution aren't just any other thrash band, these guys have a few tricks up their sleeve.

'Final Vow' and 'All Hail! ' are both prevailing songs, giving sweet effort with steady blend of both thrash worlds going from moderate ballad straight into the ultimate pit experience. Effective bassist George Robb provides the backing vocals in 'All Hail!' which are sure to make the crowd want to chant together as they thrash along. 'Sudden Death' closes this demo out with a bang. Wasting no time, drummer John Gilleland distributes potent speed and effectual time-changes. This final track really gives you a well-rounded sense of what these guys have to offer.

In only four songs, Violent Revolution prove to us that thrash doesn't have to be the same old formula we've heard time and time again. New elements can be added to push this genre forward to the next level and they are letting everyone know that's exactly what they plan to do. Guess that's why they've already had the amazing opportunity to open with thrash kings Exodus and new school thrash faves, Warbringer. Violent Revolution have a chance to push themselves even further and give us something really worth fighting for on a full release. Hope to hear more from these guys very soon!

Be sure to check out Violent Revolution's Main Wesite or their Reverbnation to hear tracks and keep an eye out on their next tour date!
Tracklist:
1. An Open Letter
2. Damaged
3. Final Vow
4. All Hail!
5. Sudden Death
https://www.facebook.com/Violentrevolutionaz-315247925348137/
http://www.violentrevolution.net/index.html
Members:
George Robb – Bass/Vocals
John Gilleland – Drums
Don Funk – Guitar/Vocals
Nate Garduno – Guitar


Rating: 6 out of 10
~LL