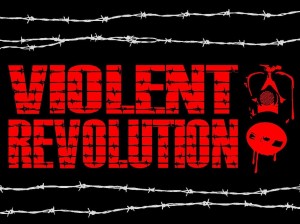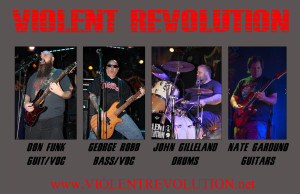 Summon: How did the band get started?
George: I started the band back in November 2014. I wrote a bunch of Thrash tunes and figured "What the hell, might as well bring back the old school shit".
Summon: What kind of music do you play?
George: Pretty much old school 80's style thrash/crossover. Definitely in the style of old school Exodus, Slayer, S.O.D., Nuclear Assault, D.R.I., etc…
Summon: How has the fan response been?
George: It's been fuckin' awesome. We've been getting a shit-ton of airplay and pres… It's fucking crazy… We recently did a show with Exodus and we got a great response from the fan there too.
Nate: I will find out as soon as I play my first show with them opening for Enforcer and Warbringer Feb. 5th.
Summon: Where did the band name come from?
George: it kinda just came out of the lyrical content that I was going for. A lot of people ask me if it has a Kreator connection but really it didn't at all. Just a vibe from what is going on today socially and politically.
Summon: Introduce the band members and what they do in the band.
George Robb: Bass/Backing Vocals
Don Funk: Guitars/Lead Vocals
John Gilleland: Drums
Nate Garduno: Guitars
Summon: Who writes the music? Lyrics?
George: So far it's been mostly me writing both music and lyrics but we all pitch in when we put it together.
Summon: And where do the lyric ideas come from?
George: Fuck!!! They come from society, the political climate… life fuck experiences!!!
Summon: What is your view in Satanism and Occultism?
George: I am not a religious man per se… I do have some spiritual beliefs but nothing in the Satanic or Occult realm… not really sure…
Nate: I'm an Atheist, do not believe in that stuff, but those topics make cool ideas for horror movies.
Summon: How many albums/CD's have you released?
George: Just the one demo "Damaged Society" so far.
Summon: Tell me about some the songs on the latest CD?
George: There's 5 tracks on the demo, the first track being a spoken word thing… some real sick shit. The second track open it up with "Damaged". This one is about a guy with nothing left to live for except rage. Then comes a slower grinder "Final Vow". It's about someone that decides to rise above the chaos and take control. Then then next track is "All Hail". That one is about a crazy politician that lies his way into office, then all hell breaks loose. The last track is called "Sudden Death" and it's about the rat race of life and the final cost – Death!!!
Summon: Do you have any side projects?
George: This is the only thing on my plate at the moment.
Nate: I am also the lead guitar player in Ashes of the Dead, and I also do some tracks for friends here and there.
Summon: Who are some of your musical influences?
George: As far as bass goes… Geezer Butler, John Paul Jones, Steve Harris and of course Lemmy. As far as music goes… Black Sabbath, Iron Maiden, Slayer, Exodus, The Exploited… Way too many to list here.
Nate: Ace Frehly, Marty Friedman, Alex Schonlick, Phill Demmil, Dimebag Darrel, Bach, Joe Pass, Geezer Butler, Robert Trujillo, Victor Wooten.
Summon: Which current bands?
George: Definitely Exodus.
Nate: Battlecross, Holy Grail, Havock, Nervosa, and I am starting to like Ghost.
Summon: What is the band like when you play live?
George: Pretty intense and focused on delivering the punchline!!!
Summon: Have you guys ever played in another country?
George: Not as of yet but we are definitely aiming to head out to Europe. I have played in Canada & Mexico but nowhere else outside North America.
Nate: I have not (unless Texas counts).
Summon: How big of crowd shows up at shows usually?
George: Well… when we did the Exodus show there was definitely a couple of hundred there to see us.
Summon: How is the crowd response when you play?
George: Fucking Awesome!!! Especially the younger kids that really haven't experienced the older style shit… they are hungry for it.
Summon: What do you think of the US Black Metal/Death Metal scene?
George: I really am not that much involved in it and here in the Phoenix area it's really not that prevalent.
Nate: I really like some of the Death Metal bands that have been coming out such as Origin, Krisiun, not into Black metal that much.
Summon: What do you think of the Overseas scenes?
George: The European scene is of course the fuckin' best, by far!!!
Nate: I think the scene overseas is a lot better than it is in the U.S.
Summon: What are some of new favorite black metal/death metal bands?
George: Like I said I am not really into it but there are a few… Abbath, Maybe Gorgoroth… of course I love Venom.
Nate: Origin, Krisiun.
Summon: When do you guys plan on writing any new material?
George: We are cranking out new material as we speak.
Summon: What does the future hold for the band??
George: We will be recording out first full length album later in January 2016. Hopefully we will be releasing it b Spring 2016… Hold on to your asses!!!
Nate: The sky is the limit.
Contact them at:
http://www.violentrevolution.net
https://www.facebook.com/Violentrevolutionaz-315247925348137/
https://www.reverbnation.com/violentrevolution1