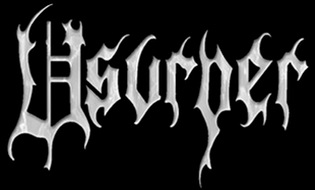 Usurper
"Visions Of The Gods"
2000, Necropolis Records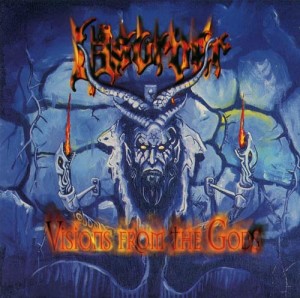 This isn't the new Usurper album, but more of a compilation album showing the band's history. The CD contains their Visions Of The Gods Demo, a version of King Diamond's "Charon", and one live song. The compilation kicks off with, "Soulstalker '96", which is a re-recorded song from the demo, as well as drummer Apocolyptic Warlord's last contribution to the band. "Soulstalker '96" was taken from the Root Of All Evil Records compilation, Roots III. Tracks 2 through 5 are the Visions Of The Gods demo, which I'm sure is why people are buying this collection for the most. The demo appears in it's original form, no remixing or anything done to it to make it more polished. Just raw as how a demo should be. Next up is a cover version of King Diamond's "Charon", which is actually going to be on the upcoming King Diamond tribute that Necropolis is going to put out. Usurper's version is very well played, and they have a good conviction with it. They try and maintain the original feel, but also playing it the Usurper way making it more interesting. "Bonefire" is a previous unreleased song, and the song was written in 96, and originally planned for Skeletal Season. I think the song should have been on the album, because the song is really good, and the riff has a melt your face off attitude. "Wolflord(Night Prowler version)" is slightly darker and heavier than on Skeletal Season. This version features wolf howls. Also, this version was to appear on the vinyl version of Skeletal Season but never did. Lastly, there is a live version of, "Blood Passion". I'm glad this was the last song, because I feel it is very weak. I was happy to hear this, and it's worth the money. The booklet contains lyrics, liner notes, pics of the last 6 years, and all the line ups from each recording on this CD. I can't wait to hear the 3rd album.
Tracklist:
1. Soulstalker '96
2. Deep in the Forest
3. Visions From the Gods
4. Dusk
5. Soulstalker (original)
6. Charon (King Diamond Cover)
7. Bonefire
8. Woldlord (Night Prowler version)
9. Blood Passion (live 1998)
https://www.facebook.com/usurper.chicago
Members:
Rick Scythe – Guitars/Vocals
Jon Necromancer – Vocals/Bass
Carcass Chris – Guitars
General Diabolical Slaughter – Vocals
Dave Hellstorm – Drums
Rating: 8 out of 10
~Azazel