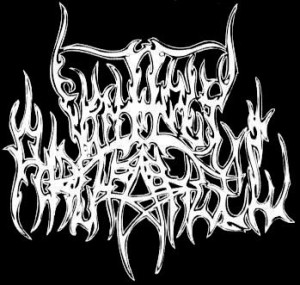 Summon: How did the band get started?
Iapetos666: The band started in March of 1996 by Agisilaos and Iapetos666.
Summon: What kind of music do you play?
Iapetos666: Death Black.
Summon: How has the band response been?
Iapetos666: Very well from the Brutal heads!
Summon: Where did the band name come from?
Iapetos666: Eosforos/Lucifer is the key here!!
Summon: Introduce the band members
Iapetos666: Just right now. Iapetos666 War Commands.
Agisilaos Chainsaw Diamelism
Atlas Giant Axe
Sisifos Soundblast
Alexander (Not anymore in band) Lava Hammers
Summon: Who writes the music? Lyrics?
Iapetos666: Iapetos666 writes the lyrics and Agisilaos the music
Summon: And where do the lyric ideas come from?
Iapetos666: From the ancient Hellenic past and history
Summon: What is your view in Satanism and Occultism?
Iapetos666: I read a lot of books about thats. I'm very familiar with both of them. Not more comments.
Summon: How many albums/Cd's have you released?
Iapetos666: One full length CD, LP One MCD, MLP One Split LP and one 7" EP.
Summon: Tell me about some the songs on the latest CD?
Iapetos666: Spartan's March, Apeirotan, Stench of judgeochristianism, Obsessed by war, destruction by Hyfaistos Hammer.
Summon: Do you have any side projects?
Iapetos666: Yes, I play like a vocalist to In Chaos Baphomet
Summon: Who are some of your musical influences?
Iapetos666: From extreme thrash, death, black scene like old Sodom, Kreator, Repulsionn, Blasphemy, Sarcofago, Beherit, Blood.
Summon: Which current bands?
Iapetos666: The typical only. Spikes, bullets, chains and barage of pure and raw adrenaline!!!
Summon: What is the band like when you play live?
Iapetos666: We play just one time only!!!
Summon: Do you have any type of stage props or special clothing?
Iapetos666: No
Summon: Have you guys ever played in another country?
Iapetos666: Maniacs
Summon: How big of crowd shows up at shows usually?
Iapetos666: 100 Maniacs
Summon: How is the crowd response when you play?
Iapetos666: Like Maniacs
Summon: What do you think of the US Black/Death Metal scene?
Iapetos666: Kills
Summon: What do you think of the overseas Black/Death Metal scenes?
Iapetos666: I'm Into Death/Black scene from every country.
Summon: What are some of new favorite black/death metal bands?
Iapetos666: Blasphemy, Sarcofago, Impiety, Abhorer, Beherit, Dead Christ, Naked Whipper and many more.
Summon: When do you guys plan on writing any new material?
Iapetos666: Just right
Summon: What does the future hold for the band??
Iapetos666: A second Full Length for sure.
"VERY THANX MY BROTHER FOR THE SUPPORT AND SORRY FOR THE FUCKING DELAY.ALL MY HAILS TO YOU AND THE MANIACS WHO READ THESE WORDS!! IAPETOS 666"
Contact them at:
http://www.facebook.com/unholyarchangel
https://myspace.com/unholyarchangel666