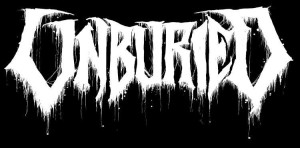 Unburied
"Murder 101"
2012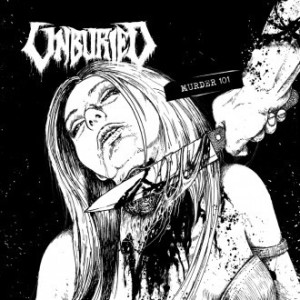 People into Underground Metal know the name Mark Riddick. He is one of the most bad ass artists out there, if you see one of his album covers you just have to look. But Mark also plays bass for Unburied (not his only band either). Unburied is quintessential Underground Metal. Raw sound, heavy drive, gruff, violent vocals. The beats drive the songs instead of just living on their own in the background.
Murder 101 is strong start to finish. It plays like an assault but with distinction. It is one of those CD's you can throw in and just let it play. If you are looking for something different from overproduced digital homogenized metal, You have to check this out.
Tracklist:
1. Trapped in a Delusion
2. I'm Going to Fuckin' Kill You
3. Stalked, Fucked, and Buried
4. Abraxas Annihilation (Integrity cover)
5. Homicidal Sex Rage
6. Reborn unto Hades
7. Impulse to Kill
8. Heartless Corpse Defilement
9. Witchburner (GG Allin cover)
10. The Kidnapper
11. Murder 101
https://www.facebook.com/pages/Unburied/191878257527420
Members:
Matt Pike – Vocals/Guitars
Mark Riddick- Bass
Brian Forman- Drums
Rating: 8 out of 10
~Alaric Hannibal Barca
alaricbarca.com
Unburied
"Murder 101"
2012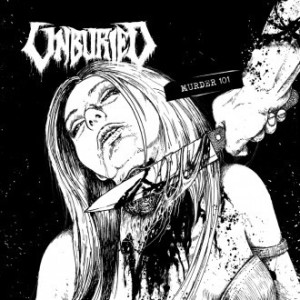 When I saw the band name I knew I had come across these guys before and then it came to me….the " Slut Decapitator " album from 2008, which if I remember rightly was a trip down the Old School Death memory lane and again I don't remember it being that ummm " memorable ".
So these Virginians have popped up again and with this their 2012 release nothing much has changed at all. The music is of the plodding Old School Death Metal variety ala mid period Grave / Unleashed, the vocals are your standard growly affair with some annoying as hell high pitched shrieky/shouty vocals which absolutely have no place in there at all and ruin the tracks on offer.
The production is decent, the songs do however start sounding pretty similar to each other and the guitars have that monotonous " chug a chug chug chug " annoyance to them.
I wanted to give these guys another chance but they just haven't progressed any in the last 4 years, but what we have here is an average, play it safe Death Metal album.
Tracklist:
1. Trapped in a Delusion
2. I'm Going to Fuckin' Kill You
3. Stalked, Fucked, and Buried
4. Abraxas Annihilation (Integrity cover)
5. Homicidal Sex Rage
6. Reborn unto Hades
7. Impulse to Kill
8. Heartless Corpse Defilement
9. Witchburner (GG Allin cover)
10. The Kidnapper
11. Murder 101
https://www.facebook.com/pages/Unburied/191878257527420
http://selfmadegod.bandcamp.com/album/murder-101
Members:
Matt Pike – Vocals/Guitars
Mark Riddick- Bass
Brian Forman- Drums
Rating: 5 out of 10
~Death Metal Andy