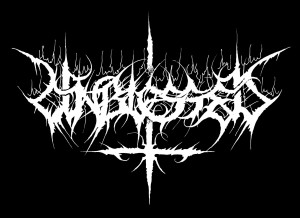 UNBLESSED was formulated during 1999 as an attempt by guitarist Paul Callahan and guitarist Jorge Castro to fuse Black Metal with Gothenburg Death Metal style. Joining the pair would be drummer Ivan Graepp and subsequently bassist Felipe Rodriguez.
During 2001 front-man Diego Yañez was inducted to complete the first Unblessed..s line-up, but by the following year his position had been taken by Roberto Barraza for recording of the demo session 'Monolith From Beyond'. that was recorded in Spectro studios at 2002, the changes in line up make to the band upload the demo in their website for free, this opened a lot of gates for the band.
UNBLESSED would lose the services of both Barraza and Rodriguez, necessitating Callahan taking lead vocal responsibilities. Gerardo Hormazábal came in to cover bass in March of 2003 but shortly after the band found itself drummerless. then Jorge Castro leaves the band and he is replaced by Rodrigo Tuteleers, Ivan Graepp is replaced by Carlos Retamales. Then Blackgoat recs. produced as EP ¨Monolith from beyond¨ at 2004. This line up continue until 2005 when Hórmazabal and Tuteleers leave the band.
At these times the the line up was Paul Callahan (guitar/vocals); Jonathan Reig (bass); Carlos Retamales (drums) and Rodrigo Brissos (guitar). The band has played in Brazil, Rio de janeiro, Sao Paulo, Belo Horizonte, Talca, Puerto Montt, Temuco, Iquique, Arica, Rancagua, Valparaiso, Melipilla, El Monte and in their hometown Santiago many times.
The band´s debut album "Burning Your Faith" was released in January 2009. In February of that year, the band opened for Sinister. Singles from that album were shot by Abysmo prods, becoming the bands first video clips, "Burning your Faith" and "Viral Killing".
On late 2009 the band entered DB Audio studio to record their 2nd CD, entitled "Man has killed God", date of release in August 28 (2010) under Australis Recs in a deluxe digipack edition. The band also filmed the video clip for "Misery Torment", included on the CD and the same year the band has released their first international tour on Brazil.
Actually the band is working to finish their official dvd, recording new album and also get on an international tour with a new line up conformed by Paul Callahan (guitar/vocals); Jonathan Reig (bass); Gonzalo Townsend (drums) and Javier Rojas (guitar).