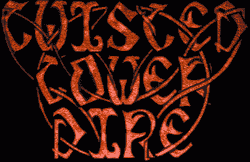 Summon: How did the band get started? How did you meet and how long have you been together?
Scott: Twisted Tower Dire was born of fire in the year 1995. The founding line-up was Jim Murad (bass), Scott Waldrop (guitar), Mick Mertaugh (guitar), Tom Phillips (vocals) and Mark Stauffer (drums). Jim and I have been playing in the same band for about five years. We met when he came to play in my first band Golgotha. We have been playing, drinking and making fun of others ever since. Jim and I know Tom Phillips from the days when Golgotha used to play with this band Parasitic Infestation. Tom expressed interest in singing for Twisted Tower Dire when he heard one of our practice tapes. We had all known Mick for quite some time. Mick also wanted to join Twisted Tower Dire after hearing a practice tape. Mick was already in Arghoslent so he got their drummer Mark Stauffer to play for us. Unfortunately, Tom and Mick are no longer in the band. We have replaced Tom with the famous Janet Rubin. It has been very hard to replace Mick. I have auditioned several burner since his departure. I believe we have settled in with a permanent replacement but I'm going to hold off on making any official announcements. Mark, Jim and I have been together for about a year and half.
Summon: How would you describe your music?
Scott: Twisted Tower Dire is red not, intense non 90's, crazy metal. I like to think that our music is a cross between Maiden and Sabbath. Our musicianship and uplifting spirit are reminiscent of Maiden. However, I say we're Sabbath-like because add stoned, groovy passages and trip samples to our songs.
Summon: What are your biggest musical influences?
Scott: Personally some of my biggest influences are Pink Floyd, Iron Maiden, Mercyful Fate, Jimi Hendrix, Black Sabbath, Helloween, Candlemass, Yngwie Malmsteen's Rising Force, Led Zeppelin, Warlock, Kiss/Ace Frehley, Rush, AC/DC, Dio and some more.
Summon: Who if, if any do you consider the bands idols?
Scott: Everyone in the band has their own idols. Jimmy is a total Pink Floyd person. I know that one of Mark's biggest influences is Viovod. I don't think that anything impresses Janet very much unless it's opera. I'm not sure exactly who her opera idols are so I wont make any statements about it. I would have to say that my guitar playing is currently influenced the most by Maiden and Mercyful Fate.
Summon: What made you want to be in the band? And if you weren't in the band what would you want to be doing now?
Scott: I formed this band because metal must live and conquer! If I were not in Twisted Tower Dire I would probably join a motorcycle gang.
Summon: What are some of your favorite bands that are really popular today?
Scott: Some of my favorite bands that are "really popular" include Tiamat, Immortal, Solitude Returns, and some others. There are a lot of good bands in the underground these days.
Summon: How many demos/albums do you have? Tell me about them.
Scott: We have our first demo and a split 7" with Cold Mourning. The demo contains two songs. The first track is entitled "Rue Of the Forsaken Sleepkeeper". This song has a very doomy feel to it with a real driving metal chorus. The second tune is called "Mourner in the Nethermist". This song is a bit more upbeat. I like to think that the chorus lyrics are reminiscent of Dio. The demo was recorded during the blizzard if 96 and sounds more metal because of this.
Summon: If you could play with any band who would it be and why?
Scott: I would play with Iron Maiden because I like them and they would like me.
Summon: Who writes the majority of the music?
Scott: Jim and I write most of the music.
Summon: Who has been the favorite band you've played with? Why?
Scott: I would have to say that my favorite bands we've played with is Johnny Bravo. I say this because their name is extremely gay which makes us look tough and cool when people see us on the same bill.
Summon: Where did you get the band name from?
Scott: Our name came from a line in a Thokk song. Thook was the solo project of our previous guitarist Mick.
Summon: Describe what the band is like live?
Scott: When Twisted Tower Dire plays live mountains crumble, girls get wet and the Valkyries fly above our heads. One can expect to see a set choc-full of spikes, leather, fire and blood when we take the stage. Jim likes to contort his body to the metal vibes and make various gestures at the fans. I myself enjoy jumping from high objects and making devil horns out of my hands. Most people that come to our shows enjoy getting very drunk before our performance. Our drunk fans show their appreciation of our metal by breaking bottles and offering their women.
Summon: If you are gonna do any kind of video what would be in it?
Scott: Funny that you should ask that. As I mentioned before we are planning to do videos for a few songs. Obviously the most important thing is naked women. We want the Twisted Tower Dire videos to have lots of naked women in them. Of course there are other necessary ingredients for videos such as fire, smoke, mummies, human bones, muscle cars, swords, pentagrams, grim reapers, psychedelic colors, marijuana and so forth.
Summon: Are there any tour plans made, if so tell me about them?
Scott: We hope to assault American East this summer. Anyone interested in gag dates and locations should contact me in late spring 97′.
Summon: Where do you think the band will be in 20 years from now?
Scott: The White House
Contact them at:
Twisted Tower Dire
10021 Scenic View Terrace
Vienna,VA 22182