Trials
"In The Shadows Of Swords"
2013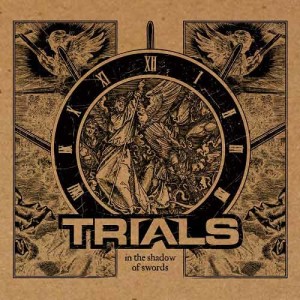 Okay this a good band. Trials is good metalcore. I love the drums and all the band members in this deliver the best are very tight. Each song is different. They have a thrash sound too. Jawbreaker, Believers in Black are the best songs I like. These guys remind me of Demon Hunter or Hate Breed. Yes the drums are triggered. Look who cares the bands lyrics and sound is brutal. Give them a try guys and girls. Don't judge them before you hear them.
Tracklist:
1. Conjoined
2. Believers in Black
3. Blueprints of Metaphor
4. In the Misery Machine
5. With Only Sorrow Now
6. All the Promises
7. Upon this Day
8. Ancestor
9. Embracing Nothing
10. Jawbreaker
https://www.facebook.com/trialsmusic
http://trials.bandcamp.com/album/witness-to-the-downfall
Members:
Mark Sugar – Vocals, Guitar
Ryan Bruchert – Guitar
Adam Kopecky – Drums
Usha Rajbandari – Bass
Rating: 8 out of 10
~Chazz
Trials
"Witness To The Downfall"
2011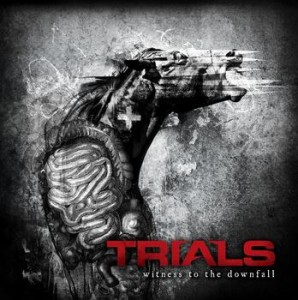 Some metalheads are too uptight when it comes to metal. If a band doesn't have the right kind of extreme sound, they are ousted from the metal community and labeled "sellouts". People need to relax; it's only music. I understand that metalheads are opposed to "pretenders" to the metal genre, but a good band is a good band no matter what. It would seem that over the years metal-core has seen the brunt of the distain. Bands like In Flames and Morbid Angel have taken considerable flak for switching genres and, in the eyes of many fans, taking a turn toward mainstream. But, there do exist good metal-core bands that are not sellouts. Bands that just want to extend their angry message through the music they play. Trials is such a band. This Chicago based group is just about as good as metal-core gets. Their 2011 full-length album titled Witness to the Downfall is a triumphant tour de force that starts out commanding and never loses steam over the entire fifty plus minutes that this record has you gripped. In fact, I would say it gets more powerful as it plays on. Mark Sugar is on vocals and guitar. He is phenomenal on both. He has a great mid-range harsh delivery and can switch things up to sing clean just as well. He has a great ability to jump between the two styles. His guitar playing is crafty and traditional. He is usually putting his own little flair on everything and it is done very well. The songs vary, but always stay within the metal-core boundaries. Maybe sometimes touching on groove metal. Songs like "This is Salvation" hearken back to late nineties Machine Head. Others like "Take This From Me" and "Kingdoms", while still being metal-core, almost resemble a progressive style of song writing. Every song on this album is unique and well constructed. The mix is perfect allowing for every member of the group to shine. This is a remarkable album from a remarkable band. Nothing is compromised here. Everything is professional quality. Take a bow Trials. Keep this up and you will be a major player in this genre.
Tracklist:
1. Praise
2. Powerless
3. This Is Starvation
4. Declaration
5. Hammer
6. Shadows & Traps
7. Kingdom
8. And Still I Breathe
9. Take This from Me
https://www.facebook.com/trialsmusic
Members:
Mark Sugar – Vocals/Guitars
Ryan Bruchert – Guitars
Adam Kopecky – Drums
Usha Rajbandari – Bass
Rating: 9 out of 10
~Kris