Trepanation
"Meticulous Evisceration"
2013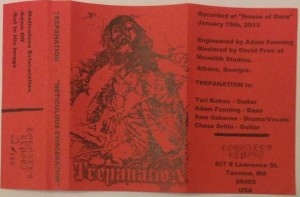 Hailing form Tacoma, Washington we have Trepanation who have delivered us a filthy 3 track demo of pure Incantation / Autopsy worship. The 3 tracks on offer here are recorded in a way that feels like its live but this adds to the overall feel of the tracks on offer.
The opening track " Meticulous Evisceration " has the riff-age which instantly reminds you of Autopsy, the riffs could have come straight from " Mental Funeral" and the vocals sound like " Onward to Golgotha" period Incantation.
Second track " Sawn Off" has some killer sub human vocals which appear and add the filth, the last track " Rot In His Image " is prime Autopsy worship, this time think more along the lines of Acts Of The Unspeakable.
I thoroughly enjoyed this, I hope a full length is coming down the pipeline as this was a superb listening experience. I am all for classic band worshiping if its done this spectacularly, it made me think of the band Mausoleum who also do the Autopsy thing so well.
Highly recommended, seek this out for a pure aural annihilation!
Tracklist:
1. Meticulous Evisceration
2. Sawn Off
3. Rot in His Image
https://www.facebook.com/trepanationusa?ref=ts&fref=ts
http://trepanationusa.bandcamp.com/
Members:
Sam Osborne – Bass/Vocals
Yuri Kahan – Guitars
Andrew Osborne – Bass (2014), Guitars (2014-present)
C. Koryn – Drums
Rating: 9 out of 10
~Death Metal Andy