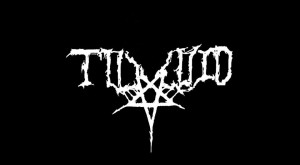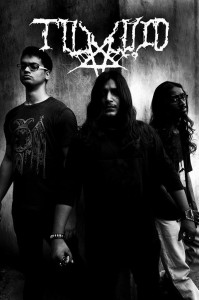 Summon: How did the band get started?
Adnan Khan (Blade): The band was started in 2012 In the Toxic City of India, Noida.
Summon: What kind of music do you play?
Adnan Khan (Blade): We play satanic black metal.
Summon: How has the fan response been?
Adnan Khan (Blade): Its quite well till now, as we are among Few Black metal artists in India.
Summon: Where did the band name come from?
Adnan Khan (Blade): If you would be adventurous enough to find out the scientific meaning of the word, you'll find a deeper hidden agenda behind us naming our band TOXOID. Putting it in lay man's terms, it's something bad, given to in order to incite the production of something to make that person immune to something that's worse for the person. I hope that helps. Secondly, our band started off in Noida which, some on you will know, is an industrial hub, and thus we our surrounded by toxins. Hence, that gave us direction to name our band.
Summon: Introduce the band members and what they do in the band.
Here's Current Line up
Adnan Khan -Guitar /vocals
Prabal Sahoo – Drums
Paul Marandi – Bass
Summon: Who writes the music? Lyrics?
Adnan Khan (Blade): All the music is written by me (Adnan) while our drummer Helps us with the lyrics.
Summon: And where do the lyric ideas come from?
Adnan Khan (Blade): The concepts of God and religion have ruined this world. Hobbes did not picture the world as it is now when he wrote the Leviathan. If you look at the reasons behind most wars, (including the crusades, all of the holy wars), suppression of women and homosexuality, ethnic cleansing, burning witches, suicide bombings, condoning slavery, and the systematic fucking of children, you might find out why our lyrics are aggressively anti-god. A change in perspective is all that is needed.
Summon: What is your view in Satanism and Occultism?
Adnan Khan (Blade): Satanism is nothing, but everything at the same time. It is simple and easy to understand but logical and philosophical also .For us occultism are rituals based on esoteric knowledge of the world of spirits and unknown forces. It is dark and Mystical.
Summon: How many albums/CD's have you released?
Adnan Khan (Blade): We have recently released Our Debut album "AURORA SATANAE". Besides that we have our two singles 'The castle of incubus and the godless empire'.
Summon: Tell me about some the songs on the latest CD?
Adnan Khan (Blade): Our latest release "AURORA SATANAE" Is a 6 track album. .All songs are doing are justice to the genre of Satanic black metal. Our album titled track is more of melodic and Fast while our 3rd song 'Demon lust' is a 'Black metal' Ballard.
Summon: Do you have any side projects?
Adnan Khan (Blade): Yes, currently I am (Adnan) working on One man death metal project. Our drummer (Prabal) is also a part of an Renowed 'rock n roll' band here in India and Our bassist (Paul) is having some experimental project going on.
Summon: Who are some of your musical influences?
Adnan Khan (Blade): We are mainly influenced by Swedish black metal bands like Dark Funeral, Naglfar, Watain, and Marduk. From Norwegian Mayhem, Gorgoroth, Immortal, Darkthrone and lots more.
Summon: What is the band like when you play live?
Adnan Khan (Blade): We don't know this really, but according to our Fans We are BEAST on stage.
Summon: Have you guys ever played in another country?
Adnan Khan (Blade): Not yet, but we are planning to do a European tour next year for our album.
Summon: How big of crowd shows up at shows usually?
Adnan Khan (Blade): Depends upon Shows, Usually of 100-150 strength. Here in India, Metal scene is still developing.
Summon: How is the crowd response when you play?
Adnan Khan (Blade): There are few black metal acts in India, and Metal fans here are more into Heavy metal, metalcore, Thrash metal etc. So every time we perform Crowd reacts very differently to us. We are still spreading the black metal in India.
Summon: What do you think of the US Black Metal/Death Metal scene?
Adnan Khan (Blade): The main part is US fans are supportive, enthusiastic about extreme metal as compare to India where commercial shitty music is ruling. There are many labels who support extreme metal and other forms of metal while in India there are few such as 'Transcending obscurity' etc.
Summon: What are some of new favorite black metal/death metal bands?
Adnan Khan (Blade): Valdur, Proklet, Plaga etc.
Summon: When do you guys plan on writing any new material?
Adnan Khan (Blade): We are writing new material, but focusing more on playing live shows and spreading our music Internationally.
Summon: What does the future hold for the band??
Adnan Khan (Blade): We are one of the flag bearers of 'Satanic' black metal In India, So the main aim for us is to educate fans here about Black metal and other forms of extreme metal By our music. We are planning a European Tour very soon. Other than this we are planning to make something like Black metal Helvete (May be).
Contact them at:
https://www.facebook.com/HELL666BIRD