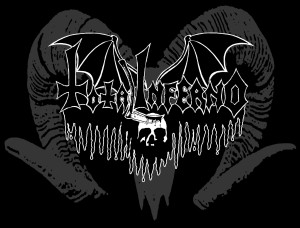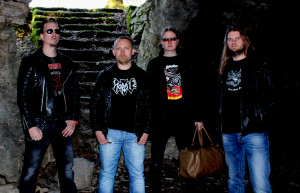 Summon: How did the band get started?
Johan: We had a band called Evilized before witch never took off, you might say. After a while we decided to end the band and approx. 6 months later me and Dan got talked about starting something slightly different namely Total Inferno.
Summon: What kind of music do you play?
Dan: Pure evil metal from hell.
Summon: How has the fan response been?
Johan: The response has been really great worldwide, we have fans from all corners of the earth and here in Sweden we seem to have gathered a faithful bunch of hard rockers that show up at our gigs and by our march. Thanks a lot to them!!!!
Summon: Where did the band name come from?
Dan: We want to have a band name which described our music so then it became TOTAL INFERNO.
Summon: Introduce the band members and what they do in the band.
Dan: Guitar
Jonny: Bass
Johan: Drums
Jimmy: Vocals
Summon: Who writes the music? Lyrics?
Jimmy: Most of the music comes from Dan who got the most ideas but Johan has many ideas to. Myself and Jonny are the lazy people who don't get so many ideas. The lyrics is written by all of us but mostly by me because…. I am the singer.
Summon: And where do the lyric ideas come from?
Jimmy: They often just pop up in my head or if i had read about something interesting.
Summon: What is your view in Satanism and Occultism?
Jimmy: There is something with the occult that drag me and inspires me when I write. The hidden and unknown that no one has an answer to. Satan is Satan he is the evil one. I like flowers but it's not funny to write lyrics about them.
Summon: How many albums/CD's have you released?
Dan: So far, Total Inferno participated on the compilation "Critical Mass Vol 2" with the song "Speed Metal Death" which was the first official Total Inferno song and the compilation was released only on vinyl by Critical Mass Recordings.
In autumn of 2014 we enter the studio Armageddon Recordings in Vänersborg to record the first demo "Soulless Storm" which was recorded and mixed by Anders Backelin (Lord Belial)
In summer of 2015 total inferno entered the studio once again to record their first full length album "Return Of Evil Chaos" which was released in November 2015 by Pure Metal Records.
And we also have two upcoming vinyl splits with DISORDER (El Salvador) and MORDANT (Sweden).
Summon: Tell me about some the songs on the latest CD?
Dan: Pure old school thrash / black metal, full speed from start to end.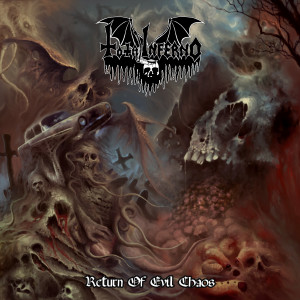 Summon: Do you have any side projects?
Johan: No, Nothing worth mentioning at this point.
Summon: Who are some of your musical influences?
Johan: You know we have been fans of metal for decades and pretty much explored everything from AC/DC and Thin Lizzy via Iron maiden, Saxon, Motörhead to Slayer,Bathory, Morbid angel Autopsy and so on. to mention some. What i have noticed is that we always lands on the great Heavy metal bands like maiden, Saxon and Motörhead. But we also keeps getting back to the early Heavy/Thrash/Black/Death bands like Venom, Celtic Frost, Bathory and Morbid Angel to mention some again.
I think when you are a fan of music you listen to different music in cycles, at least i do. for example at this point I'm really into old death and thrash bands like Autopsy, Morbid angel but also Hellwitch and Bathory. In a few weeks i usually go back to Iron maiden, Saxon, Satan, the British bands but also Yngwie Malmsten and so on. i notice that i can answer this question with a 1000 page trilogy so i will stop now. I hope you got my point, hehe.
Summon: Which current bands?
Johan: Current bands are pretty much the same as 30 years ago, and that is fantastic! but i understand and i will try to name some newer bands with at least i like. Total Inferno, RAM, This is difficult. i don't listen to much new music. I really prefer the old bands, also their new records. Not only the early ones even if they usually is the best. Everything seems to be so strange and overdone with peculiar stuff, i prefer the music pure from hell and not to much more than that. Good songs with power and some hell!
Summon: What is the band like when you play live?
Jonny: Raw, straightforward and honest. A hell of a show, quite simply.
Summon: Have you guys ever played in another country?
Dan: No not yet but we are in discussions with several promoters world wide.
Summon: How big of crowd shows up at shows usually?
Johan: So far from 50 to maybe 500? difficult to say.
Summon: How is the crowd response when you play?
Johan: We bring them hell, so they get pretty happy and ecstatic while they head-bang and scream!
Summon: What do you think of the US Black Metal/Death Metal scene?
Jimmy: It's great so many great bands that inspires me comes from USA. Death, Morbid Angel has big influences on me. And Killer Fox of course.
Summon: What do you think of the Overseas scenes?
Johan: Great!! I don't categorize music from which part of the world its from, Good music is produced all over the planet if you ask me. I have favorites everywhere. Sabbat, Hellhound from Japan. Morbid Angel, Slayer, Autopsy and Hellwitch for US. Bathory, Candlemass from Scandinavia(Sweden) Stormwitch, Destruction and Sodom from Germany. Sarcofago and volcano from SA and so on. I think you got my point again. i can go on forever.
Summon: What are some of new favorite black metal/death metal bands?
Jimmy: Deathhammer (nor), Necrocurse (swe)
Summon: When do you guys plan on writing any new material?
Dan: We are always in the writing process.
Summon: What does the future hold for the band??
Johan: Lots of interesting project in ongoing, a couple of 7" splits with Disorder of El Salvador and Mordant of Sweden, several gigs at clubs and festivals, then we are releasing the record on cassette and probably vinyl. Later this year we are planning to enter the studio for a second full-length record!
Contact them at:
https://www.facebook.com/totalinferno
https://www.instagram.com/total_inferno/
https://soundcloud.com/totalinferno
https://www.youtube.com/channel/UCa7yFF-R9UsBUABhNtqwc-g