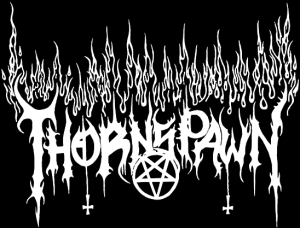 FROM THE INFERNO OF THE ABYSS RISES THORNSPAWN!!!
Tiring of the local underground metal scene, Swornghoul and Blackthorn united to create the band in the Autumn of "93. Shortly after they came across an individual, Lord Necron, who shared their apocalyptic visions.
The Band proceeded to release their first demo "The Dacian Empire" in June of 1996 to the local scene and was immediately accepted by the masses. During this time, it was decided that a permanent bassist would be added. And so, Gothmog enters the battle. With this solid line-up they went on to brutalize the local scene as well as open shows for:

INCANTATION
VITAL REMAINS
NILE
MORTICIAN
HADES (NORWAY)
Then after the demand for a new release, the band entered the studio in late '97 and released "Consecration of Evil Flesh" which was sent to distributors, labels and 'zines. THORNSPAWN has received reviews in 'zines such as:

Heresy Zine (Australia)
Nordic Visions (Norway)
Hellfire Zine (Mexico)
Sounds of Death (USA)
THORNSPAWN at the moment have just come out of the studio and are awaiting to release 7 new songs to the masses. Not all understand this band's vision. Some, too weak to fully understand it's power and purpose, mock this Dark band and it's members and continue in their shallow world of inferior metal. While those true to the metal scene gather in support of these dark visionaries.
Since late 1998, Gothmog has been expelled from the Band due to personal differences and conflicts. This departure was for the better. A new bassist has been admitted to THORNSPAWN named Bolverk. Bolverk has a very satisfactory record behind him, being involved with the mighty and legendary NECROVORE (a cited influence from many underground metal groups since the birth of the scene). He is a metal brother to those in THORNSPAWN, and his attitude and skill make him a truly worthy addition to the Band. THORNSPAWN are currently working on new songs to release soon…information will be included as it develops.
Thornspawn
13122 Woller Valley
San Antonio, TX 78249
https://www.facebook.com/Thornspawn
https://myspace.com/officialthornspawn
https://www.reverbnation.com/2301114