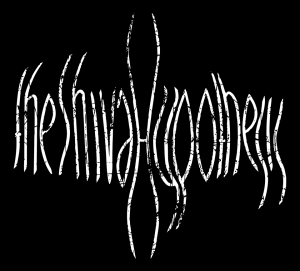 Summon: How did the band get started?
ML: JB and I have been playing together for some 13 years now. We started out playing stuff like Darkthrone, Bathory, early My Dying Bride and Paradise Lost. A couple of years later we met BN and started to write our own material under the name Final Thoughts. Some other people joined… and left. The music was more like a mix of thrash with modern black metal at that time. Since JB was the only one who was very proficient on his instrument it took us some years to become good enough that we felt confident that we could do our material justice in a live situation. In 2012 we turned some things around and changed the name to The Shiva Hypothesis. Some time later MvS joined and everything has been quite steady since then.

 
Summon: What kind of music do you play?
MvS: I suppose it could best be described as blackened death metal, spiced with some thrash and atmospheric influences. Both musically and lyrically, the terms 'experimental' and 'philosophical' fit the bill.
Summon: How has the fan response been?
ML: Our promo has only been out for a short while, but responses have been really good so far.
Summon: Where did the band name come from?
MvS: The name is based on a theory that identifies a pattern in mass extinctions on the Earth caused by the periodic impact of comets, after which periods of fast evolution follow. This idea of destruction and creation serves as a major influence for the band.

 
Summon: Introduce the band members and what they do in the band.
MvS: We've got JB on guitars, ML handling the bass, keyboards and effects, MvS providing the biggest part of the vocals and BN laying down the percussion. Everyone in the band has contributed some additional vocals in one form another. ML has handled all the recording and production tasks so far.
Summon: Who writes the music? Lyrics?
JB: Guitar riffs have always been the foundation upon which our songs are built. ML plays guitar as well and our ideas together create the rough bulk of a song's structure, which is then later refined and built upon with input of all of the band's members. Drum patterns are often a collaboration of ML and BN. All lyrics spring from the pen of our vocalist.
Summon: And where do the lyric ideas come from?
MvS: The lyrics mostly discuss themes of mysticism, occultism and philosophy, often linked to the general theme of the band, which is creation vs destruction.
Summon: What is your view in Satanism and Occultism?
MvS: There is no genuine belief in any of it, merely a creative interest. Satanism has no bearing on our music, but Occultism often serves as an inspiration.
Summon: How many albums/CD's have you released?
ML: Just our promo at the moment. But a full length is 95% finished, so that should see the light of day quite soon and we've got a lot of material lying around, which we're probably start recording right after the full length is finished.
Summon: Tell me about some the songs on the latest CD?
ML: The promo features three songs, which we think present the material on the upcoming full length the best. The first song, Caduceus, is probably closest to black metal with a somewhat doomy slow section before ending with a big chorus. Praedormitium is an older track and has some more thrash and death metal influences. The final track, Maze of Delusion, is a long evolving epic, which showcases different styles of music that have inspired us. Lyrically, the songs draw inspiration from the tarot and the tree of life. With a bit of shuffling, these three songs actually tell one intertwined story.
Summon: Do you have any side projects?
ML: BN and I have been involved in an experimental drone/doom project, which shall not be named here and I occasionally write music which is not suited to TSH (might someday be released in some form or another). BN is involved with some DnB/Cross-breed music projects, MvS is also a part of the Gothic/Melodic Death metal act Faces of Cain and JB has been involved with several Death Metal and stoner projects.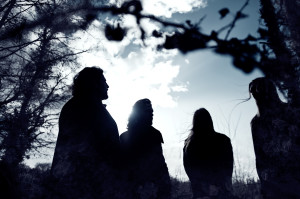 Summon: Who are some of your musical influences?
ML: Songwriting wise I think bands that have had the most influence on JB and me through the years have been: Behemoth, Gorgoroth (especially Ad Majorem…), Emperor, Mayhem, Immortal,  early Metallica, Soulside Journey by Darkthrone, North from here by Sentenced, Carved in Stigmata Wounds by Secrets of the Moon, Magog (the Swedish one, especially their 2004 promo), Volcano by Satyricon, <Code>, the later Death albums and Altars of Madness by Morbid Angel…
JB: Devious, Carcass, Deathspell Omega, Nasum…

 
Summon: Which current bands?
ML: Some newer stuff that several people in the band enjoy: Sulphur Aeon, Wederganger, Dictated, Misþyrming, Wiegedood, Fluisteraars, Obsequiae, Totem Skin.

 
Summon: What is the band like when you play live?
ML: We aim to put on an energetic show that suits our concepts and philosophy for the band while staying away from some of the overblown cliché stuff metal is known for…
BN: When I play live, I feel like I am on another planet. Sometimes I need to take care not to crash my cymbals;)
Summon: Have you guys ever played in another country?
ML: Not yet, but some things are currently in the works.
Summon: How big of crowd shows up at shows usually?
ML: Depends on who we're playing with. Fortunately however we have a loyal group of people who always turn up. Generally the turn out on the shows we've played has been great.
Summon: How is the crowd response when you play?
ML: Really good so far, most people seem to get what we're doing.
Summon: What do you think of the US Black Metal/Death Metal scene?
MvS: As with most other countries, it's a hit and miss situation. There are some profoundly interesting bands out there (Absu and Agalloch spring to mind), but most bands in the ' third wave of black metal' category can be skipped in our opinion. As for death metal, keeping the 'core' out of it is always beneficial (BN: Exception is Beneath the Massacre!). The American doom/drone scene also has a lot to offer, with bands like Sunn O))) and Earth.
Summon: What do you think of the Overseas scenes?
ML & MvS: As stated in any scene there are great and not so great bands. Generally I think the musical climate is really good at the moment with a lot of interesting artists popping up all over the planet. 2015 has been a great year music wise with great releases by both new bands and bands that have been around for quite some time.
Summon: What are some of new favorite black metal/death metal bands?
ML: See the part about current bands.
Summon: When do you guys plan on writing any new material?
ML: Currently working on it!
Summon: What does the future hold for the band??
ML: We plan to release a full length and hopefully an EP in 2016. We're also planning some more live gigs at the moment, so if all goes according to plan, you'll be hearing a lot more from us in the coming year.
Contact them at:
https://www.facebook.com/theshivahypothesis
http://the-shiva-hypothesis.bandcamp.com
https://soundcloud.com/theshivahypothesis
https://www.youtube.com/channel/UCTpCTMOWY4rM0s0GNzP9tgQ