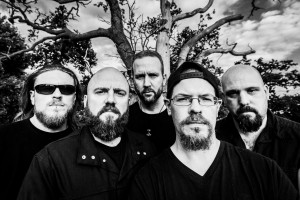 Summon: How did the band get started? Introduce the band members and what they do in the band.
Steve: Hi man, thanks for your interest in covering us. For a full biog and history, you can visit our homesite www.thekingisblind.wordpress.com
Summon: What kind of music do you play?
Steve: Monolithic Metal. To judge what that means for yourself, we have a track called 'Fragility Becomes Wrath' from our upcoming album streaming that gives you a hint of the spectrum of our brand of metal. The album is called 'Our Father' and it will be unleashed via the reborn prestigious metal label Cacophonous Records on 29th January 2016.
Here's the link to 'Fragility Becomes Wrath': http://metalhammer.teamrock.com/news/2015-11-04/the-king-is-blind-premiere-new-track-fragility-becomes-wrath
Summon: How has the fan response been?
Steve: We've been very grateful to have received a very positive response to the advance track and to the new material we've been playing live. It certainly fills us with confidence that 'Our Father' is going to go down well.
Summon: Where did the band name come from?
Steve: It's an adaptation from the phrase "In the kingdom of the blind, the one eyed man is king." Like our approach to lyrics, there's a comment on modern society in there, too. It's particularly apt at the moment, considering how those in power pretty much all around the world are responding to the depressing situation we find ourselves in.
Summon: Who writes the music? Lyrics? And where do the lyric ideas come from?
Steve: 'Our Father' is a concept album but one we were meticulous in ensuring that it works on several levels. There's the narrative, but there's also intrinsic themes that are intertwined with the story, and, then, each song also needed to be adaptable, lyrically, to work as a standalone track. We have adapted the story of Satan from sources such as Paradise Lost, Book of Revelation, The Divine Comedy and so on, and rewritten it, using it as an allegory to explore the inherent failings of mankind. Obviously the title is a play on 'Our Father' being the "Lord's Prayer", but the story shows Satan as the true father of mankind, as well as him spawning Sin and Death and conquering and unleashing Chaos.
Summon: What is your view in Satanism and Occultism?
Steve: While we have used Satan, and his "life" and story as the key focal point of the concept, much like Paradise Lost (the poem) did, we use his story allegorically only. Satan is an exceptional literary vehicle and able to convey much commentary on humanity and our modern world through retelling his story on 'Our Father'.
Summon: How many albums/CD's have you released?
Steve: We have an EP, 'The Deficiencies Of Man' available via Mordgrimm, and our debut album 'Our Father' will be released on Cacophonous on 29th January 2016.
Summon: Tell me about some the songs on the latest CD?
Steve: As mentioned, 'Our Father' is a concept album, so it was important that the music reflected the story being told and took a similar journey. It's quite a diverse record for a HEAVY album. It's important to us that our music is dark, aggressive metal but that it has hooks, is enhanced with melodies and dynamics and littered quality riffs that draw people in by smacking them in the face and forcing their necks to headbang.
Summon: Do you have any side projects?
Steve: Ah, we're all busy buggers, so we're all involved in music in one way or another. I write, Lee has other projects, Paul books bands, Cez plays in New Model Army and Barney has at least one other band on the go at any one time – To The Nines are a hardcore band he's in and they're really rather good.
Summon: Who are some of your musical influences?  Which current bands?
Steve: We grew up into metal in the early to mid 90's, when grind, death metal and black metal were all exploding and when the mainstream was getting heavy, too, so it's only natural a lot of that filters into our sound. But there's 45 years of metal out there and we're experienced not to put any limitations or barriers in our way.
Summon: What is the band like when you play live?
Steve: Sweaty, loud, energetic and exuding positive aggression. We do allow ourselves to be a bit more "heavy metal" live than the more serious side we have in the studio, but that's to be expected. I know when I attend the show, I want a band to make me want to headbang, or pump a fist along, so we willingly embrace that live. We fire out an aggressive, powerful vitality live, packaged up in a positive energy to bring people on board with us. It's an approach that is both completely natural – if you fake it you get found out – and, so far, proving very successful.
Summon: Have you guys ever played in another country?
Steve: Yes, a few times.
Summon: What do you think of the US Black Metal/Death Metal scene? What do you think of the Overseas scenes? What are some of new favorite black metal/death metal bands?
Steve: There's a lot of talent out there at the moment. Open your ears, open your minds, be curious and use the tools available to you to uncover it. And if you do stumble across someone you care about, support them – if you find the music for free, maybe buy a shirt, go see a show and/or turn your friends onto them.
Summon: When do you guys plan on writing any new material?
Steve: We're always writing. There's a strong creative chemistry between the five of us, and while the metal is flowing, we're going to let it pour out of us.
Summon: What does the future hold for the band??
Steve: We're excitedly waiting for the release of our debut album, 'Our Father', on 29th January. We are also preparing to shoot our first video for '…And All The Daemons Are Here', which will vomit forth onto your screens in the new year and rehearsing to play an ambitious gig at our album launch show on 31st January at The Black Heart in Camden (London), where we will play 'Our Father' in full, unleashing the full, ugly concept in its monstrous, monolithic entirety.
Contact them at:
https://www.facebook.com/TheKingIsBlind/
https://twitter.com/TheKingIsBlind
http://www.thekingisblind.bandcamp.com/