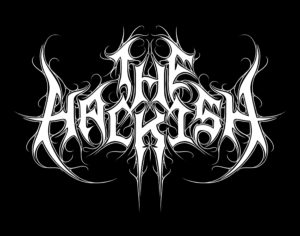 The Hackish
"The Consuming"
2017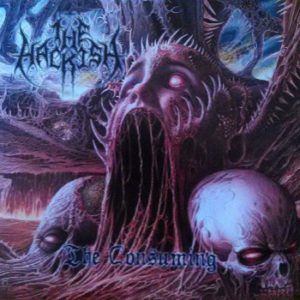 Hailing from St Augustine, Florida is the truly magnificent The Hacking. Spanning the 24 minutes of this opus you get literally drilled into the ground by the relentless pummeling of Deathgrind insanity and it goes by oh so quickly.
Comparisons upon first listen are initially the mighty Exhumed, Nasum, Circle Of Dead Children and Embalming Theater.
There are definitely some Old School flavors o this album, especially in the harmonized guitar work and the overall sound of them too, literally like a chainsaw ripping flesh apart. The drum work is killer too and plenty of variety is on display, its not all blasting your face off which is a nice touch.
The vocals I really did like, the raw blood curdling sounds that spew forth are very much like Matt Harvey from Exhumed and the lows that are incorporated give a nod to mid period Carcass and one of my fave band, Impaled.
This is literally all killer and no filler, the odd little film intro to some of the songs really do set you up for the face ripping that is about to ensue. Excellent, crisp production values also help immensely here as a lot of of bands of this ilk forget that its sometimes not always best to sound raw and dirty just for the Hell of it.
Stand out tracks for me were "Human Skin Pelts", "Raped and Seeded", "Bushwhacker, "The Consuming" and "Cycles".
This was definitely a pleasure to listen to and an awesome, gory surprise to wrap my ears around. Totally recommended to pick up and I'll wager they're killer to see live.
Deathgrind is alive (or just plain ol' bloodthirsty) in 2017.
Tracklist:
1. Violated
2. Coffin Of Beliefs
3. Consequences
4. Human Skin Pelts
5. R.M.P.
6. Parasite
7. Raped and Seeded
8. Bushwacker
9. Congregation Deceased
10. Labor Pains
11. The Consuming
12. Symbol of the Vile
13. Cycles
https://www.reverbnation.com/thehackish
https://www.facebook.com/thehackish/
Members:
Andrew Gammill – Guitar/Bass/Vocals
Sandra Gammill – Vocals
Benjamin Kelly – Drums
Rating: 9 out of 10
~Death Metal Andy