The Gardnerz
"Exiting Reality"
2013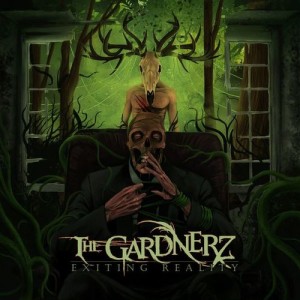 The Gardnerz have once again put their song writing and musical talent on display for their 2013 single titled Exiting Reality, parts 1 and 2. This is a song split into two parts. This time, The Gardnerz has opted for a more straightforward doom metal sound, but keep the melodic death metal elements. Once again, all four members of this fantastic group shine. The brilliant guitar playing of Wilhelm Lindh returns on Exiting Reality along with the phenomenal bass playing of Francisco Martin. These two weave a colorful musical tapestry together and perfectly balance each other taking the listener on a journey. Singer Niclas Ankerbranth shows growth, giving a fantastic performance that is only stumbled by a tiny misstep. He keeps his incredible deep and mid-range growling but adds in clean bellowing that is hit or miss. There are moments where he sounds a little weak, especially because his singing is so strong otherwise. I feel he could pull this style off and it would really add much to The Gardnerz, it just needs some work. This single is another flowing, moving, and evolving piece of music from an extremely talented band. But honestly, I would expect nothing less from this band.
Tracklist:
1. Exiting Reality Pt. 1
2. Exiting Reality Pt. 2
https://www.facebook.com/thegardnerz
Members:
Francisco Martin – Bass
Vedran Bencic – Drums
Wihelm Lindh – Guitars
Niclas Ankarbranth – Vocals
Rating: 8 out of 10
~Kris
The Gardnerz
"It All Fades"
2012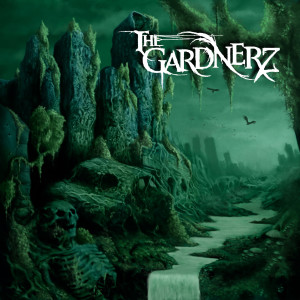 One of the many great aspects of reviewing music is often you get to hear how a band grows and improves. After the 2011 full-length album The System Of Nature by Swedish band The Gardnerz, I felt they didn't have much to improve upon. Their album was a dynamic masterpiece of doom infused death metal that was a real pleasure to experience. The Gardnerz wasted no time getting to work and expanding on their already impeccable sound. The result is their 2012 EP titled It All Fades. This EP is every bit the equal of The System Of Nature in quality and creative songwriting. But this time around The Gardnerz show us that they are not content to simply copy the same formula that made The System of nature a success. They instead decide to expand on their sound and they have created one hell of an incredible EP. This time around they add melodic elements to the already solid musical blend. This combination of doom melodic death metal gives us an EP that is extreme at points but can also slow things down and deliver wispy somber moments of dread that pull you in as a listener. This EP wants to play you by giving you some anger and then swinging you into sadness, and it pulls this off immaculately. All of the brilliant musical performances featured are on The System of Nature are back and also expanded upon. Singer Niclas Ankarbranth still has his deep, dominating death metal voice but this time putts in some great bellowing and some great clean singing too. He is a phenomenal death metal singer that shows he is improving on his already near perfect voice and expanding on what he does best in artistic ways. Not to be out done, guitarist Wilhelm Lindh also expands on his playing keeping his blisteringly brutal death metal riffs but now at times can move to hauntingly beautiful delicate leads and arpeggios. He and bassist Francisco Martin once again weave a perfect tapestry together. This EP has the guts to take on a black metal classic and completely rework it. Transilvanian Hunger by the one and only Darkthrone has been covered here in an intensely fascinating way. They strip out the extreme metal and have a woman beautifully sing the song over soft melodies played gracefully on guitar. This works extremely well as a cover and as a creative spin on a black metal classic. This is one fantastic band and this is one fantastic EP. Constantly imaginative and evolving proving that even though it all fades, The Gardnerz continue to shine.
Tracklist:
1. Don't Look Back
2. A Horrible Disease
3. Transilvanian Hunger (Darkthrone cover)
4. It All Fades
5. Melatonin
6. Erasing Bad Specimen
https://www.facebook.com/thegardnerz
Members:
Francisco Martin – Bass
Vedran Bencic – Drums
Wihelm Lindh – Guitars
Niclas Ankarbranth – Vocals
Rating: 9 out of 10
~Kris
The Gardnerz
"The System of Nature"
2011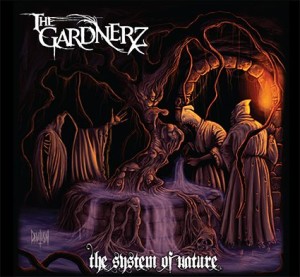 I have always felt that when bands can successfully fuse genres together, it makes for the most interesting and unique types of metal. Swedish band The Gardnerz is a prime example. They are a fusion of stellar death metal and expressively heavy doom metal. The result is a superb album that pulls off its heavy, dark, and dismal sound with professional precision. The Gardnerz's 2011 full-length album titled The System Of Nature is a dense and profound record that is constantly pushing itself through a thick atmosphere of gloomy shadows and emerges as a fantastically intense and emotionally draining experience. This is not a record made only for the mosh pit. This is a record that has been crafted by masters and is meant to be enjoyed by those that appreciate extreme metal as a form of expression. This album is slow and doomy death metal that has been perfectly recorded and mixed. All four members of this tremendous band add so much creativity. Even the bass, which is so often lost in the mix when it comes to extreme metal, highlights itself and gives a terrific performance; perfectly holding everything together while adding just enough of its own finesse, but never going overboard. Credit Francisco Martin for the ingenious bass performance. The same could be said for the other three inspired performances. Niclas Ankarbranth on vocals is an excellent death metal singer that perfectly surges along with each song. Soaring from deep and powerful to high and raspy, he embodies all that extreme metal singing should be. Even though everyone is amazing the real standout for me is Wilhelm Lindh on guitar. He weaves a perfect flow of heavy, tricky, and visceral riffs but can also move to somber playing that adds the right amount of sentiment and significance to each song. He adds creative leads and can switch it up to mire everything in solemn darkness. At an hour long, this is a tremendously dense expedition from start to end. Few death metal albums feel this psychologically draining, and few doom metal albums are this violently heavy. The System Of Nature strikes a perfect balance and for The Gardnerz, it feels like second nature.
Tracklist:
1. The Art of Suffering
2. Lady in the Grave
3. Your Final Solution
4. Born to Consume
5. Incident
6. Shift in Thought
7. Flaw in the Axion
8. More or Less
9. Confusion
10. Maybe It's Time
https://www.facebook.com/thegardnerz
Members:
Francisco Martin – Bass
Vedran Bencic – Drums
Wihelm Lindh – Guitars
Niclas Ankarbranth – Vocals
Rating: 9 out of 10
~Kris