The Amenta
"Flesh Is Heir"
2013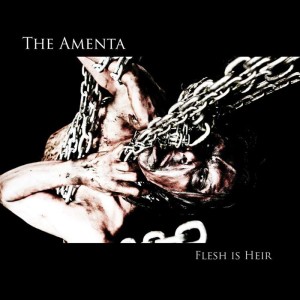 Flesh Is Heir is the seventh release by the Australian industrial death metal band The Amenta. After four EP's and two full-length albums, this band has proven they have what it takes to compete in the world of industrial metal. And once again, they make it look easy. Flesh Is Heir is the third full-length album by this Aussie five-piece and there is a lot to like on this record. This is almost reminiscent of early Fear Factory. The industrial elements are here but downplayed to great effect. The powerful emotion shines through each song mostly through the powerful vocals of singer Cain Cressall. He has a perfect mid-range delivery. He is powerful and precise. Maybe a little one note, but he can stretch to hit the high raspy notes when he has to. Accompanying is Erik Miehs on guitar. His performance may not rewrite the books on how death metal guitar should be played, but he is solid and professional. But the real standout for me is drummer Diazonon. He has an ultra dominant presence throughout with his commanding drumming that never gets too technical for its own good. His particularly fast double bass kicks matched with his ability to jump time signatures make him an absolute monster on the drums. As I said before, the industrial elements are downplayed here. Everything blends together well. The industrial elements feel naturally part of each song, not distractions. There are some key moments where the music and voice samples create atmospheric moments that take hold of your senses. Such moments include songs like Cell or A Tomb Womb, or A Palimpesest. The album swings from soft atmosphere back to brutal flawlessly. My only problem with this record is that the variety is few and far between. That is not necessarily a bad thing but The Amenta show that can down shift to add more feeling and emotion to their songs. I wish they did it a little more often. Flesh Is Heir is a great collection of strong songs. The Amenta have proven they can give industrial metal a kick in the ass, and come out on top.
Tracklist:
1. Flesh Is Heir
2. Ego Ergo Sum
3. Teeth
4. A Womb Tone
5. Obliterate's Prayer
6. Sewer
7. The Argument
8. Cell
9. Disintergrate
10. A Palimpsest
11. Tabula Rasa
https://www.facebook.com/theamenta
Members:
Cain Cressall – Vocals
Timothy Pope – Samples/Programming
Erik Miehs – Guitars
Dan Quinlan – Bass
David Haley – Drums
Rating: 8 out of 10
~Kris
The Amenta
"Chokehold"
2012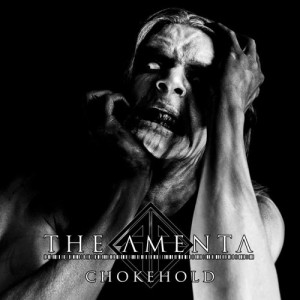 The Amenta have a sound that seems straight out of the mid-nineties. This Australian band is heavy on the industrial metal that great Britain is known for. Chokehold is this bands fifth release in the last ten years. They have put out two EP's and two full-length albums. This fifth one, released in 2012 is a collection of five great songs. Sakem and Vermin are very clean and crisp live recordings, both songs appearing on each off the bands full-length records. Void is remix of the title track from the bands 2011 EP of the same name. This song sounds a lot like mid-nineties Morbid Angel, with a slight industrial twist. Christ Bait Rising is a cover of the Godflesh song. The title track from this EP might be the only original song here, but what this EP lacks in originality it makes up for in potency. Once the slightly fuzzy bass locks with the bass drum you know you are in for something special. With clever layering throughout and a perfect mix, this is a great example of industrial done properly. There is feeling in these five songs. This is not just heavy for the sake of heavy. With blistering vocals that have just the right amount of reverb and echo, this is one tight, solid and uncompromisingly brutal EP. The Amenta breathe life into industrial metal. They perfectly blend techno samples with their vicious metal, and they make it look easy.
Tracklist:
1. Chokehold
2. Christbait Rising (Godflesh cover)
3. Vold (remix)
4. Sekem (live)
5. Vermin (live)
https://www.facebook.com/theamenta
Members:
Cain Cressall – Vocals
Timothy Pope – Samples/Programming
Erik Miehs – Guitars
Dan Quinlan – Bass
David Haley – Drums
Rating: 8.5 out of 10
~Kris