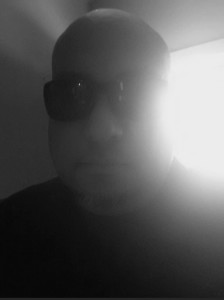 Summon: What kind of music do you play?
Victor: Progressive/Avant-garde Black Metal.
Summon: How has the fan response been?
Victor: Well, to my surprise, the feedback from people have been beyond positive, people keep asking when the full album is coming out.
Summon: Where did the band name come from?
Hercolubus: The band came from the splitting of two bands back in 1995, I'm not going to mention names but one of the members of what became Sycamore called me and ask me to sing in his new project. I wasn't happy with the situation in the band I was in, so I went to a practice and decided to stay. At the time I was reading a lot of the occult and the bible. In one of my readings I came across the name Sycamore which is the name of the tree where Judas Iscariot hung himself after betraying Christ. I proposed the name to the rest of the band and they agreed with me so we kept the name.
Summon: Introduce the band members and what they do in the band.
Victor: All music and programming.
Hercolubus: Lyrics, vocals, concept and production.
Ricardo (Ricky) Hernandez: Programming and post-production.
Summon: Who writes the music? Lyrics? And where do the lyric ideas come from?
Hercolubus: Victor is the one who does all the music for Sycamore3. I'm very lucky to be working with him and Ricky, because they are both accomplished musicians and are taking Sycamore3 to new heights musically speaking. I (Hercolubus) do all the lyrics, which, for the most part, regarding this album, came out from nihilist poems written by my favorite philosopher E.M. Cioran, hence the name "Nihil" for the title of the album.
Summon: What is your view in Satanism and Occultism?
Victor: I'm an Atheist, but no link to satanism or occultism though.
Hercolubus: Sycamore3 concept is Nihilistic in essence. Personally I'm a frustrated ex-philosophy major student and I'm attracted to all kinds of ways of thinking, meaning that I'm acquainted with the Occult. Regarding Ricky, I have no idea were he stands on the subject.
Summon: How many albums/CD's have you released?
Hercolubus: Sycamore3 have a long history of sonic documentation. Back in 1995/96 we put out two demos "Water Of Ultimate Wisdom" and "Moon Spell" and in 1999 we put together an EP/demo called "Dance Macabra" through Necropolis Records (R.I.P.). In 2000 we recorded a full album for Necropolis called "Enemy Of The Sun" but the label filed for bankruptcy and the album never saw the light of day until 2013 where it was launched as a split demo called Muzgum Depressium 2 with the band Cryptorsatan. In 2012 Sycamore3 went active again after a 12 year hiatus and launched the self tilted promo "Sycamore3". I wrote all the music and lyrics for that recording. Then Victor and Ricky got on board and we started the sessions for what ended up being "Nihil" which is due to be released on 2014.
Summon: Tell me about some the songs on the latest CD?
Hercolubus: Nihil is a concept album dealing with the fears and uncertainties of death. The song Nihil embodies the whole concept of the album, it came directly from a poem written by E.M.Cioran called "On Death." We at Sycamore3 want to introduce literature to our music and conceptualize the album accordingly. Sonically and visually, this is best portrayed on the first Sycamore3 video of the song "Nihil".
Summon: Do you have any side projects?
Victor: Elixir of Opium.
Hercolubus: Draculasimia.
Summon: Who are some of your musical influences?
Victor: Classic Death Metal, Progressive Rock, Ambient, Jazz, Trip-Hop.
Hercolubus: Post-Punk, Oi! first gen. Black Metal, Noise and Death Metal.
Summon: Which current bands?
Victor: Porcupine Tree/Steven Wilson, The Kilimanjaro Darkjazz Ensemble, Ihsahn, Aborym, ASG, Shinning (NOR), Virus.
Hercolubus: Altar of Plagues, Aborym,Corrosion of Conformity, Electric Wizard, Einsturzende Neubauten and Igorrr.
Summon: What is the band like when you play live?
Hercolubus: Sycamore3 hasn't been on stage since 1997, back then we were young and we had great shows. As for right now Sycamore3 is a studio project, but we are looking to reform the band and do live shows again.
Summon: Have you guys ever played in another country?
Victor: No, but hopefully it'll happen soon.
Summon: How big of crowd shows up at shows usually?
Victor: The last show we played there were 300 fans approximately.
Summon: How is the crowd response when you play?
Hercolubus: It's crazy, we still hear about it. That last Sycamore3 show was very influential in Puerto Rico. I have to put it into context, back in 1996/97 there were two Black Metal Bands in Puerto Rico and one of them was Sycamore3. There were a lot of obstacles and pressure put on us and in the end, some band members could not deal with it and we disbanded.
Summon: What do you think of the US Black Metal/Death Metal scene?
Victor: Through the years the scene has been getting stronger and bigger, there's no doubt that. I think the scene is in a great position and has a lot to offer.
Summon: What do you think of the Overseas scenes?
Victor: In my opinion, the overseas scenes are pretty intense. You have a little but of everything on each country, from Death Metal to Power Metal to Progressive Metal you name it. Each country has something good and interesting to offer, there's no doubt about that.
Summon: What are some of new favorite black metal/death metal bands?
Victor: Although I prefer to listen to the classics but bands like Skeletonwitch, Ihsahn, Leprous and Virus among others have my full attention at the moment.
Hercolubus: Inquisition, Janaza, Incantation, Sodom, Celtic Frost, Bathory and Venom.
Summon: When do you guys plan on writing any new material?
Hercolubus: We are still in post-production for "Nihil" so all our efforts are at the moment for Nihil but we are thinking about writhing about Aleister Crowley for the next Sycsmore3 effort.
Summon: What does the future hold for the band??
Hercolubus: We see Sycamore3, for the moment, as a conceptual sonic experimentation but talks are taking place in order to ensemble a band for live shows and hoping to gain lots of new fans along the way. Sycamore3 is for the most part  a studio project but there's nothing like the interaction with the fans and we're looking forward to that.
Contact them at:
http://www.reverbnation.com/sycamore3