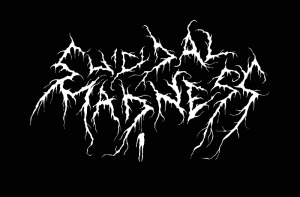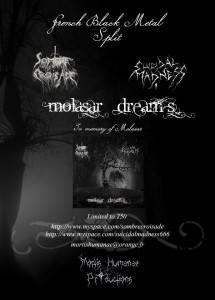 Suicidal Madness is born early in the year on 2010, the band is then composed of Psycho (Guitars) which is quickly join by Saddy (vocals), Alrinack (bass) and Molasar (drums) (all three also officiate in the band P.H.T.O), the music of the band turns to depressive and suicidal Black Metal…

At the beginning of 2011, while the first demo one ends, Molasar decides unfortunately to end in the days… Not having drummer anymore the band goes on with one limp with rhythm. It is Malsain of Sombre Croisade which is in charge of programmings.

The demo "Les Tourments de l'âme" fate finally some months afterwards, at first in auto-produced CD-R, then in tape version on sulphurous label D.U.K.E.

In the same breath a collective of the name of "Molasar Dream' s" uniting all band and projects of the friends close to Molasar creates, he is aimed at paying tribute to him and at making continue his love for music… Bands making left this collective are (Suicidal Madness, P.H.T.O, Sombre Croisade, Loup Noir, Asphodeles, Blukovla, Vils Serpents, Dernier Souffle, Vision and Temple) One compilation "Tribute to Molasar" in II volumes of the bands to "Molasar Dream's" collective is available in Tape version on Atramentum productions…

January, 2012, Suicidal Madness plays his first concert in the first one left Nocturnal Depression.

March 2012 a Split CD with Sombre Croisade takes out on the label Mortis Humanae Productions, tape version fate shortly after to D.U.K.E…

Since then the band has end its second demo which is envisaged for November / December at Mortis Humanae
Productions, it will be called "Au Crépuscule d'une vie" and the recording of a first album is under way…

Links :
http://www.myspace.com/suicidalmadness666
https://www.facebook.com/pages/Suicidal-Madness/107269472684076?ref=ts
http://www.facebook.com/Molasar.Dreams
http://molasar-dreams.e-monsite.com/
http://dieunaussprechlichenkulteneditions.hautetfort.com/archive/2011/11/17/suicidal-madness-les-tourments-de-l-ame.html
http://dieunaussprechlichenkulteneditions.hautetfort.com/archive/2012/04/18/suicidal-madness-sombre-croisade.html
http://www.mortishumanae.com/releases.aspx
http://www.atramentumproductions.com/