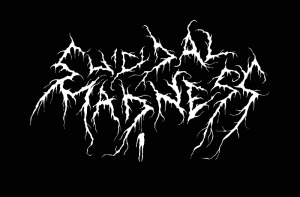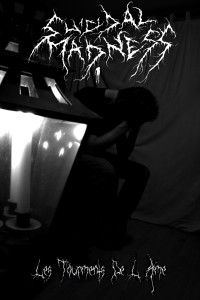 Summon: How did the band get started?
Psycho: Everything began in the begining of 2010 after we had composed a few tracks. I was looking for other musicians and Saddy, Alrinack and Molasar (the three of them being already members of the P.H.T.O band) soon joined me.
Summon: What kind of music do you play?
Psycho: Our first compositions really sounded like Suicidal Black Metal. Since then our music has evolved to a kind of rather melodic and Depressive Black Metal.
Summon: How has the fan response been?
Psycho: The audience that is into that kind of music was very responsive but everbody doesn't like our style and that's the way it is.
Summon: Where did the band name come from?
Psycho: From my point of view, Sadness and madness were the main themes I wished to explore as a main frame. I was thinking of calling the band "madness" or "sadness" but these names had already been picked by other bands… It's Saddy who came up with "Suicidal Madness" and that corresponded perfectly to what I was looking for.
Summon: Introduce the band members and what they do in the band.
Psycho: Originally, Saddy was the singer, Alrinack the bass guitarist, and I was the lead guitarist and Molasar the drummer. Unfortunely, Molasar committed suicide in January 2011. Since then we have been playing with a beat box. Malsain from "Sombre Croisade" is in charge of the dates.
Summon: Who writes the music? Lyrics?
Psycho: As we live far away from each other, we must work together without seeing each other. I compose all the guitar bits then everyone composes his own bits (drums and bass). Saddy is in charge of the lyrics but sometimes I happen to suggest a theme or a track title.
Summon: And where do the lyric ideas come from?
Saddy: Our inspiration is based on nature, our past, humanity and all the disgust it awakens in us.
Summon: What is your view in Satanism and Occultism?
Psycho: On my part I have nothing to say about the whole thing. It's not one of the themes that Suicidal Madness intends to explore.
Saddy: This being a personal philosophy though, there's no room for a neverending debate.
Alrinack: Satanism with the clean direction of the term, is an opposition to the Christian dogma, but that implies to share these doctrines, which is not my case, I do not guarantee any religious belief! I oppose it firmly! however, I find myself in a Satanism which would be symbol of a fight, a metaphor replaçant the human being, as an actor of his life, as a subject! and not as being of tender!! It is in particular for that I hate at the most point the concept of martyrs! For me the occultism, took, and take an important place! There is not evidently links between Satanism concept and occultism! Only Christians, and religious sheeps defined the correlation of them! Occultism, must be a personal approach, an initiatory way! indeed, some will say to have, black arts, with depends on others! stupid pseudonym any power! this voice should suffer from no rules, of any laws! each person builds her own occultism, maintains it and lives it as he hears it! For me the occultism, it is to try, in my felt, my personal positions and my interactions with the other, with my environment, to approach, of touching with more close the Evil, the instinct of dead which animates the human one, the Thanatos!
Summon: How many albums/CD's have you released?
Psycho: Our first demo called "les tourments de l'âme" was released in the beginning of 2011, a self-produced CD which was re-edited by D.U.K.E a few months later as a tape version. Then a split-CD with Sombre croisade was released on the Mortis Humanae Production label as well as a tape version by D.U.K.E. Our second demo, which is called "Au crépuscule d'une vie" will be released in CD by November/ December by Mortis Humanae Production and the recording of our first real album is in progress.
Summon: Tell me about some the songs on the latest CD?
Psycho: Our second demo includes 5 new tracks and a cover of "Gebrechlichleit" by Burzum. They are totally different from those of the first demo. The whole thing is very melancholic and sounds more melodic and lighter than it used to.
Summon: Do you have any side projects?
Psycho: Indeed, we all have others projects. On my part, I have another Black/Thrash band with Malsain, which is called "Total Reject". We are currently finishing our first demo…
Saddy: Suicidal Madness is a part of the collective Molasar Dream's which includes 10 different projects (P.H.T.O / Sombre Croisade / Dernier Souffle, …) and is composed only of the 6 members (Alrinack, Psycho, Malsain, Malkov, Bartuk and me) whose major style is Black Metal in different subgenres of that same kind.
Alrinack: Like my brothers-in-arms, I am a proud member of the collective Molasar Dream' s, which gathers all our solos projects, our collaborations and our groups! my solos projects (Asphodeles, Loup noir and Temple) as well as the other bands, work to diffuse our propaganda! Propaganda intended to make survive the name of our missing brother, and to make continue the love which he had for the dark music!
Summon: Who are some of your musical influences?
Psycho: Except the Metal music, I'm into several styles such as Cold Wave, progressive Rock, Folk music or Classical music… Bands like Shining, Katatonia, Burzum, Bethlehem, Silencer, Forgotten Tomb, Black Sun Aeon, The Cure (Cold-Wave period), Joy Division, Radiohead, Pink Floyd… they are often played in my flat and they may have been an influence at one time or another.
Saddy: Our musical style comes from a large range of musical movements as well as Black Metal than Ambient music or Rock.
Alrinack: For my part, I listen to Black Metal enormously, and this since many years, I find myself as much in the Pagan, as in the brutal one or the DSBM… I do not please in no case to draw aside from my ears, a group or formation, which could help me to reach my felt hatred daily newspaper!
I listen to also other musical currents, such as for example a certain amount of folk music traditional of various regions, but also of the medieval music… it seems to me paramount, as a musician, not to partition itself, which allows us unceasingly, to renew itself in term of composition!
Summon: Which current bands?
Psycho: No, nothing recent…
Saddy: The North American and East European stage such as Sombre Forêt, Gris, Addaura, Alda, Drudkh, Ygg are among the bands I mostly listen to.
Alrinack: Sincerely, it would be too complicated to support a group more than another, among those which I currently listen to! I can on the other hand clearly say that my groups of the moment, result strongly from the French scene which knows an excellent revival, but also bands resulting from the emerging countries of the east, like the Ukraine, Russia… I find that they develop a strong creativity, and a hatred without end!!
Summon: What is the band like when you play live?
Psycho: To this day we have only played live one time, which was the 27th of January at Valanciennes in Nothern France as the first part of the Noctural Depression concert.
Saddy: Our performances live are done rare, (this because of the distance which separate band members), but they are done intimist and cold in my opinion.
Alrinack: Our performances live are I think, with the image of our music, purified, sensitive and tortured! It is in any case like that I live it on scene, I let itself guide by the melodies frays with the tortuous cries of saddy! Once again, as with P.H.T.O for example, I try to start the take-off, or the introspective fall! each one will be found in its own hallucinations and onirism!
Summon: Have you guys ever played in another country?
Psycho: No, never.
Summon: How big of crowd shows up at shows usually?
Alrinack: We do not have to date, not enough services live with our credit, to make an average… and that is not so important! The important one being that the people present find themselves in our music, that they perceive the roots and the expression of it!
Summon: How is the crowd response when you play?
Saddy: The audience stays mostly stoic given our musical style (they don't jump around like kangouroos) which is perfectly fine with us.
Alrinack: Very sincerely, the public can react as it wishes it, but I think that our music can cause, in a psychic way, of the reactions contrasted enough… to disturb, but also to leave marble, in fact there the sensitivities of each one come into play!
Summon: What do you think of the US Black Metal/Death Metal scene?
Psycho: It's a very interesting stage, in Black as well as in Death Metal. I particulary like the Southern American stage (Sarcofago, old-Sepultura, Vulcano, Grave Desecrator, Bestial Holocaust, Morbosidad…). Otherwise I like Judas Iscariot, Black Funeral, Vrolok, Black Witchery, Angel Corpse, Death, Incantation, Obituary, Morbid Angel, Sadistic Intent, Profanatica, Inquisition, Von and many more…
Saddy: The Cascadian stage in Black Metal is becomming interessing. I mostly think (as i said before) about bands like Alda / Adddaura / Wittr… who are reinventing Black Metal.
Alrinack: How most scenes, the US scene comprises very good Black Metal bands, which now are part of what one could call "the classics"… but on the other hand, it holds also many groups which should abstain from, these groups which under name Black Metal, officiate in deafening mashed potatoes, without any inspiration and any hatred, but these groups there, France holds also its amount of impostors! It is a drift which one can find everywhere, the weakening of hatred for a pecuniary and pro-globalization compensation! I will not come to a conclusion more than that about the US Death, because I listen any only minoritairement!
Summon: What do you think of the Overseas scenes?
Saddy: I'm a huge fan of the Cascadian stage and the stage of quebec which are, to me, a sort a rebirth of Black Metal. A case to follow very closely.
Alrinack: I will answer the same thing that the preceding question!
Summon: What are some of new favorite Black Metal/Death Metal bands?
Psycho: Nothing special got my attention lately. I don't keep track of what's being released at the moment.
Saddy: Every day brings its lot of discovery in terms good bands, which makes it difficult for me to make a list as it would be too long, but bands like Oppressive Light, Eyelessight, Imber Lumins to name a few, left me a strong impression.
Alrinack: How known as higher, too complex to quote one more that the other, too reducing!
Summon: When do you guys plan on writing any new material?
Psycho: At the moment we have to finish the recording of our first album, which is called "les larmes du passé" and which should be ready by 2013 but I already have a few ideas for later…
Summon: What does the future hold for the band??
Psycho: To be able to more often occur into live would be very a good thing for us, one hopes well to do everything so that can become realizing…
Thank you for the support like for this interview.
Contact them at:
http://www.myspace.com/suicidalmadness666
https://www.facebook.com/pages/Suicidal-Madness/107269472684076?ref=ts
http://www.facebook.com/Molasar.Dreams
http://molasar-dreams.e-monsite.com/
http://dieunaussprechlichenkulteneditions.hautetfort.com/archive/2011/11/17/suicidal-madness-les-tourments-de-l-ame.html
http://dieunaussprechlichenkulteneditions.hautetfort.com/archive/2012/04/18/suicidal-madness-sombre-croisade.html
http://www.mortishumanae.com/releases.aspx
http://www.atramentumproductions.com/