Stigmhate
"Zodacare Od Zodameranu"
2014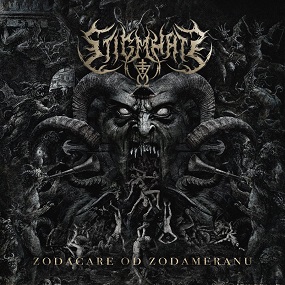 STIGMHATE is a Black Metal band hailing from Veneto, Italy.  A sonic force in the genre and should be revered by many of Black Metal liege of tastes. They've been around since not many years after the 2nd Wave of Black Metal Emerging from Norway.
The musicianship in this record is solid and the music production is well done.
Credit to Marcel Vasco (Dark Funeral, Dimmu Borgir, Keep of Kalessin) for another killer looking album cover! Special Guest appearances by Shyaithan (Impeity) Killer band by the way… As well as, Nachtgarm(Dark Funeral) Such collaboration of talent!
The shrilling screams, the blast beats, blistering guitar riffs. Every song is great to say the least. The intro "Aetherion" is a fitting cull into darkness chanting the devil in. All that follows is a hell ride thereafter.

Demonic, fast, and at times a melodic transgressions leading back into blistering fire.  Favorites of this album would have to be Adamas Ater, The Templethoth, and Mistress of Bone's Mounds.

I do feel that this Black Metal art is truly exceptional well worth your earholes.
Tracklist:
1. Aetherion
2. The Third Obsidian
3. Ave Averno In Genesi Nema
4. Mistress Of Bone's Mounds
5. PleromaApocrifa Mistica
6. Adamas Ater
7. The Templethoth
8. Radiant Darkness
9. May The Cursing Be 10. Feralis Exercitus
11. XV
12. Abraxas (Bonus Track)
https://www.facebook.com/stigmhate
Members:
Mike – Guitars
Xerberus – Bass

Rating: 8.5 out of 10
~Apopfis666
Stigmhate
"The Sun Collapse"
2012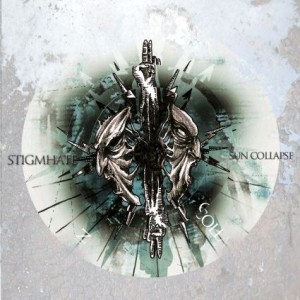 This is an uncompromising black metal release from the five piece beast known as STGMHATE.
These guys are from Italy and though I never heard them before, they are a real pleasure to listen to and I'm glad that I discovered them. "THE SUN COLLAPSE" was released in March of 2012 and is the bands 3rd full release ten years and their experience and musicianship really shows on this one.
"THRONE OF ETERNAL FLAME" starts out fast and furious and stays that way with very classical guitar melodies and awesome black metal vocals with a very theatrical and epic sound to it. Even though they are from Italy it has a very Nordic feel to it. LOVE IT.
As a matter of fact EPIC and THEATRICAL are two words that could be used to describe this whole album. It's truly a black metal symphony.
Track 3 "SINLESS PROGENY" sounds like it was blown in from an Icelandic tundra. "ARCHITECTS OF FATE" could easily be the third act in a black metal opera and "SUN COLLAPSE" is a ball of sound and fury that eventually implodes in on itself. And with "LUCE"…..the final track on "THE SUN COLLAPSE", STIGMHATE leaves us with a beautifully bitter instrumental.
If you are a black metal purist you will love this CD and the way it brings the old school b.m. sound in to a better and epic place. I give this epic an 8 out of 10 and only subtract two points for not being entirely new and original and would like to see them push the envelope just a little harder. so till next time.
Tracklist:
1. Throne pf Eternal Flame
2. Charon
3. Gathered of Isolation
4. Sinless Progeny
5. Architects of Fate
6. Plenary Repulsion
7. In the Last Wake
8. Sun Collapse
9. Luce

http://www.stigmhate.8m.com
https://www.facebook.com/stigmhate

Members:
Mike – Guitars
Xerberus – Bass/Vocals
Rating 8 out of 10
~Soul Torn Down