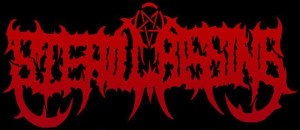 Summon: How did the band get started?
Ridho: My band STERILL BISSING started on may 2008.
Summon: What kind of music do you play?
Ridho: We play black death metal.
Summon: How has the fan response been?
Ridho: Not fans but friend, all friends response very well.
Summon: Where did the band name come from?
Ridho: I get name the band from my old friend.
Summon: Introduce the band members and what they do in the band.
Ridho: I'm Idoy as sick scream, Chimot as left handed bassist, Egy as guitar and Teguh as drum.
Summon: Who writes the music? Lyrics?
Ridho: I'm wrote the lyric and Chimot make music editor.
Summon: And where do the lyric ideas come from?
Ridho: All about war in  the world and greed of the world leaders who want to destroy this world.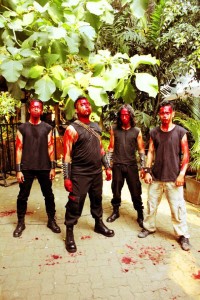 Summon: What is your view in Satanism and Occultism?
Ridho: According base my perception Satanism is choose life of human right, and occultism Here (Indonesian) are many people who use the Occultism for a traditional ceremonies (Filled with Mystic).
Summon: How many albums/CD's have you released?
Ridho: We have not album released but I just planning to released first album this years.
Summon: Do you have any side projects?
Ridho: No, we focus for development and progress we band.
Summon: Who are some of your musical influences?
Ridho: We learn a lot of some of bands: Mayhem, Morbid Angel, Dissection, Possessed, Behemoth (old), Dark Funeral, Marduk and Belphegor.
Summon: Which current bands?
Ridho: Belphegor, Marduk and BARZAKH (Indonesia).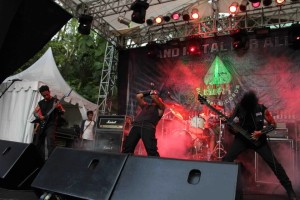 Summon: What is the band like when you play live?
Ridho: Belphegor, Mayhem, and Dark Funeral.
Summon: Have you guys ever played in another country?
Ridho: No, but if there is a chance for sure we are ready.
Summon: How big of crowd shows up at shows usually?
Ridho: We have describe could exist around 20.000 (Hammersonic festival) people for big metal events and about 200 people for small events such as in cafes.
Summon: How is the crowd response when you play?
Ridho: When we play on stage they headbang together and enjoy all the songs that we play.
Summon: What do you think of the US Black Metal/Death Metal scene?
Ridho: I think scene black metal and death metal in US very good and in Indonesian have a market for people Indonesian.
Summon: What do you think of the Overseas scenes?
Ridho: Opinion there are some Black Metal/Death Metal bands that do not change the characteristic.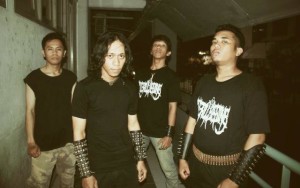 Summon: What are some of new favorite black metal/death metal bands?
Ridho: Black metal: Barzakh, Belphegor, Mayhem. Death metal: Possessed, Godzilla, Panic Disorder, Morbid Angel, Dead Vertical, Embryonic Cadaver, and Sicken Abrogation.
Summon: When do you guys plan on writing any new material?
Ridho: This years we are for planning released first album and we plan make new material for 2nd album, new t-shirt, patch, stickers.
Summon: What does the future hold for the band??
Ridho: We want to continue to exist in Indonesian black metal music, making albums again, some merchandise and go international.
Contact them at:
http://www.facebook.com/sterillbissing
http://www.reverbnation.com/sterillbissing
http://www.myspace.com/sterillbissing666
http://www.soundcloud.com/sterillbissing
http://www.twitter.com/STERILLBISSING
http://www.youtube.com/user/sterillbissing666
cp: +6283871850699/23B5EF26 (idoy)