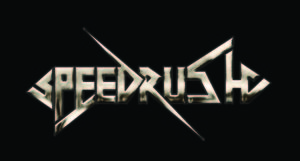 Speedrush were formed in Athens, Greece in 2005 with a purpose to play Speed and Thrash Metal the way we felt was right, as we ourselves were firstly fans of this sound.
After several lineup changes over the years, some rehearsal demo self produced CD's for our friends and fans and some local gigs in Athens (both with local bands and also supporting bands such as Razor (Can), Necronomicon (Ger), Legion of the Damned etc), we have finished the recordings of our debut album (containing 9 tracks + intro). We are very glad and excited with the overall result and are currently scheduling future gigs.
The album is scheduled to be released in December 2016 on CD by Eat Metal records and on vinyl on early 2017 by Floga records. The cover artwork is hand painted by legendary illustrator Philip Lawvere (Kreator, Celtic Frost, Rage, Nocturnal, Hirax etc).
Current line-up:
Nir – Vocals / Nick – Guitar / Tasos – Guitar /
Andreas – Drums / Spiros – Bass
Band contact: speedrush.metal@gmail.com
Greetings,
Nir/Speedrush