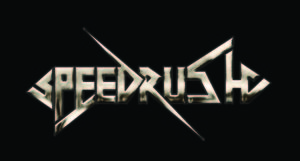 Summon: How did the band get started?
Nir: By 3 guys in 2005 that wanted to feel the energy of Heavy Metal more than fans!
Summon: What kind of music do you play?
Nir: Traditional Speed and Thrash metal with mostly European orientation.
Summon: How has the fan response been?
Nir: So far very good, people seem to like our material!
Summon: Where did the band name come from?
Nir: The name was the idea of myself and Mike, our first bassist, we wanted a one-word name that would define our style, and Speedrush came up.
Summon: Introduce the band members and what they do in the band.
Nir: Beer – vocals
Nick: Ratman – Lead/Rhythm guitar
Tasos P.: Lead/Rhythm guitar
Spiros S.: Bass
Andreas: Disco Destroyer – Drums.
Summon: Who writes the music? Lyrics?
Nir: Music on the album is written mostly by me except one song by Nick and another one by Thanos, our former guitarist. All members contribute ideas to all the songs though, regardless of who is the main composer. All album lyrics by me.
Summon: And where do the lyric ideas come from?
Nir: From our everyday lives, from subjects that impress/attract/annoy us.
Summon: What is your view in Satanism and Occultism?
Nir: None of us in the band deals with such matters, I think this is a more black metal band related question haha
Summon: How many albums/CD's have you released?
Nir: A promo single in 2008 and our debut full-length this year.
Summon: Tell me about some the songs on the latest CD?
Nir: I assume you mean lyrically, so lyrics vary from environmental consciousness, media manipulation, medieval torture, drug use issues and last but not least, the magic of Heavy Metal music.

Summon: Do you have any side projects?
Nir: All members are involved in other bands too, so also check Nightbreed, Noise Disorder, Endless Recovery, Grinding Tank and Mental Assault!
Summon: Who are some of your musical influences?
Nir: Early eras of Kreator, Destruction, Razor, Slayer etc.
Summon: Which current bands?
Nir: We don't have influences from current bands that we aware of haha, we serve the Ancient Steel!
Summon: What is the band like when you play live?
Nir: Lots of energy, speed, aggression.
Summon: Have you guys ever played in another country?
Nir: Not yet, we booked our first gig abroad in Malta this November!
Summon: How big of crowd shows up at shows usually?
Nir: It depends, from around 100 people in local shows, to 200-300 people when supporting a bigger band.
Summon: How is the crowd response when you play?
Nir: We always have some dedicated metalheads headbanging and participating by shouting lyrics etc
Summon: What do you think of the US Black Metal/Death Metal scene?
Nir: We see new bands that are keeping the flame alive and this is very positive!
Summon: What do you think of the Overseas scenes?
Nir: Since we are located in Europe, I assume you mean The US scene ? we hear very cool bands from the US, also South America and Canada scenes, the underground is strong!
Summon: What are some of new favorite black metal/death metal bands?
Nir: Our drummer Andrea is a Black/Death maniac, he would definitely recommend some Ghoulgotha, Father Befouled, Blaspherian, Druid Lord, Necroholocaust, Arizmenda, Volahn, Horrendous, Unholy Crucifix, Blood Incantation, Gravehill, Imprecation, Sempiternal Dusk and more…
Summon: When do you guys plan on writing any new material?
Nir: We have some new ideas that we're putting together, we're taking our time!
Summon: What does the future hold for the band??
Nir: No idea, I hope to play live as much as we can in new places and meet new people that are as passionate about Heavy Metal as we are! Thank you for the support Altara and Blackened Horde, cheers from Greece!
Contact them at:
https://www.facebook.com/speedrushmetal/
https://speedrush.bandcamp.com/releases