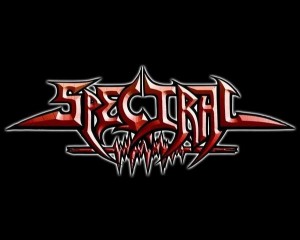 Formed at the end of 2004 in Pitesti, Romania, Spectral is amongst the young Romanian metal bands that have started to make their presence felt in the underground musical scene. It all began when Ciprian Martin(lead guitar), Stefan Marin(drums), and Dani Ionica(bass) took in their friend Alexandru Sacerdoteanu (rhythm guitar) in order to materialize their passion for extreme music and form a metal band. Several songs have emerged since then, mostly death metal oriented. What the band needed at that point was a vocalist with an aggressive approach that would match their genre. After several auditions, they managed to recruit Alex Niculae (vocals) (also member in Cursed Cemetery).
Several gigs took place in their native town; one of them was at the annual Retro Rock festival, where, due to the fact that the crowd went out of control, the organizers decided to stop the show after only three songs played – and were boo-ed off the stage by the crowd, who obviously enjoyed the show. After this, with new composed material, at the end of 2005 and the beginning of 2006 the band had a couple of club and festival gigs in the major cities of the country. Also in that period, their promo song "The Art of Pain" was featured on several Romanian underground webzines in the download section.
At the beginning of 2007, Daniel and Alexandru took some time off in order to finish their studies and were replaced by two live session members: Remus Dia and Sabin Stama. Unfortunately, after some time, Alex Niculae took the decision to leave the band. From then on the remaining members decided to focus on the songwriting and recording of what was to become the first material.
By the summer of the same year Daniel Ionica rejoined the group, together with a new addition, Daniel Tudosie, an experienced guitarist, replacing Alexandru Sacerdoteanu. Alex came back too, and the final lineup (for that time) was complete. In autumn (2007), Spectral releases "Autopsy of Hope", a material nominated for the best Romanian metal album on www.metalhead.ro – "Brilliant guitar work, especially with the beautiful solos, intelligent songwriting with a focus on the progressive side of the record, quite a bit of variation while not straying too far from a carefully chosen main line – all of these certainly make Autopsy of Hope a release worth listening to" ( www.metalcharge.com ). After this national success, Spectral begins another series of concerts including more cities from Romania.
At the end of July, 2008 Daniel Ionica and Stefan Marin are replaced, due to their lack of interest in the evolution of the band. The new bassist, Mihai Radneantu (ex Dynasty) gives an even more mature touch to the band and so, the group begins another chapter in technicality. The old songs are replaced with new ones, more dynamic, aggressive and the band begins the recordings for their first album, maybe the best metal act in the history of their native country. The album will be called "Neural Correlates of Hate", and will be ready at the end of 2009. With musical influences from various extreme genres and having amongst topics psychology and pain, Spectral is exploring the boundaries of the human psyche\'85