Sons Ov Omega
Reign
11 Track Album
Black Lion Records
Release Date: 18th February 2017
By: Pagan Hel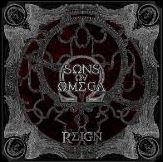 Sons Ov Omega – Umea, Sweden
Links:
https://www.facebook.com/sonsovomega
Genre: Melodic/Black Metal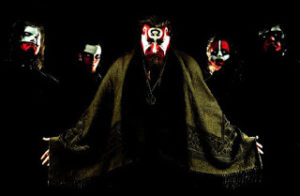 Shrouded in mystery – Sons Ov Omega
Biography:
"SONS OV OMEGA were formed in Umeå, Sweden, in 2012 by Tiamat Invictuz and Arktos. They were soon joined by Mors on lead guitar. Originally Tiamat Invictuz held the role as bass player, but the lack of a rhythm guitarist resulted in Tiamat Invictuz taking up the role. At the same time, Anthropos joined with the role of vocalist. This was the start of the creative process.
With the vast difference in musical influence, the band spent most of their time trying to find a common ground, a structure of the band and a shared vision in music, lyrics, themes and future. The following years were spent refining the sound. Mors and Tiamat Invictuz wrote tracks upon tracks, while Tiamat Invictuz and Anthropos collaborated to find a cohesive lyrical theme to represent the band. Their shared fascination with death and annihilation turned their eyes to the mythologies, tales and deities of the apocalypse.
And in 2015, when Sons Ov Omega finally was ready to enter the studio, they choose to record a full-length album with the tracks that had survived throughout the years. It resulted in the debut album "Reign". The album showcases a sonic template whose genre can be very hard to pinpoint, bringing to mind the classic works of Edge of Sanity, Enslaved and even Opeth. In 2016 Sons Ov Omega signed with Black Lion Records. "Reign" was released on February 18th, 2017 at a live concert in Umeå, Sweden, with fellow label mates Defiatory and Wormlight who played as the supporting acts!"
~~~~~~~~~~
There's one thing that can be said for Black metal bands and that is they go out of their way to look the part as well as sound the part. They wear extreme make-up and adopt strange demonic names as well as sometimes dressing for the part when on stage and Sons Ov Omega definitely fall into that category, and which there is no exception to the rule.
Judging from the first track Pandora the band have harnessed in on ambience and made great use of their melodic core, drawing it into the track with perfection. The dark and subtle tones are reminiscent of the dark arts, sounding very robust and deep veined. Fields of Vermin enslaves the erupting presence into its line of fire and toys with the mind as its thick slabs of blackness ebbs and flows with sheer intensity. The vocals sounding harsh and deviant just make the track a dark delight! Quetzalcoatl is the official single taken from their album and is outstanding! Stalking the senses and making them pay for any deviance it keeps you focused while sending shivers down your spine, despite the melodic rancour that emanates from it. Nuclear Salvation is a sweeping and vibrant energetic agitation that shows its angry side almost from the off. The harsher attributes belong to the vocalist Anthopos, whose dulcet tones show a fantastic range. Malleus Maleficarum although from the title you can guess it isn't anything good but malignant or bad, but that cannot be said for the actual track just the title. It is a track that is invasively dark and brooding, raging with emotion and devious intentions. Kali is a gentle tempered track with beautiful stringed arrangement although there are underlying warnings throughout the track as it builds momentum and comes straight for the jugular. The vocals are so deep it makes my stomach hurt as I feel I cannot breathe properly, so it already has that 'up close and personal' attribute, but it makes me uncomfortable to listen to vocals sung so low. Brainwave Zero knocks out some superb riffs that come together with a mighty scream as it bubbles over the surface and fires its combined feistiness into an atmospheric indulgence. The Tempest hosts a gallant riffage that shadows all the previous tracks and is an all-powerful rampage of magnificence. The rhythmic tension is indeed intense and superbly executed. Loving this to death! Deluge offers a sparse stringed accompaniment to some cymbal activity, with a deep monotone vocal, that suddenly explodes with all the blood and guts as it can muster. Dreams of a Sunken City (Intro) gets off to a terrifying start as its eeriness swallows you whole. The creaks and moans uncontrollably, as the atmospheric hues are in abundance and creep about inside the speakers – a malevolent force is definitely at work here, it doesn't get any darker or bleaker than this, and yet if fascinates me to the very core of my being. Tremendous track! Cthulhu rewards us with sharp riffs and spawned vocal slurry straight from the depths of hell and beyond. However, there is always a superb melodic vein pressed deep inside the tracks that make them interesting and captivating.
This is one album every black metal enthusiast will devour with newly sharpened teeth. It's deceptively intriguing – once you are there there's no going back, it has you in its grip and it isn't going to let you go anytime soon. Superb Listening!!
10/10
Track List:
Pandora
Fields of Vermin
Quetzalcoatl
Nuclear Salvation
Malleus Maleficarum
Kali
Brainwave Zero
The Tempest
Deluge
Dreams of a Sunken City (Intro)
Cthulhu
Line-up:
Anthropos – Vocals
Tiamat Invictuz – Guitar/Vocals
Mors – Guitars
Arktos – Drums