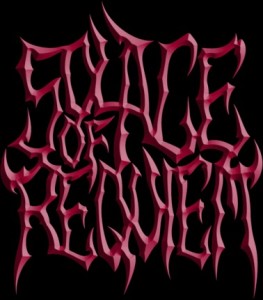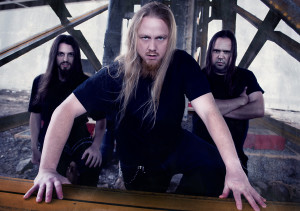 Summon: How did the band get started?
Jeff: I was part of the band Sarcophagus, which split up in 1994 because our drummer moved away. In 2001 I decided I wanted to form another band. So I contacted my old guitarist (Chris Young), and after we auditioned a few drummers that didn't pan out, we learned our original drummer (Luke Downing) was back in the area. So we immediately contacted him and he agreed to play drums for us again. The rest is history, as they say.
Summon: What kind of music do you play?
Jeff: There is no real way to describe us other than to say something that could be easily misinterpreted. All I could say is that we sound strange. There is no way you would think we were another band unless you walk into the room and only catch 5 seconds of any particular song. If you hear SOR for more than 5 seconds, there would be no way to make any direct comparison. Each instrument is playing its own song. So one song is like listening to 5 at once. But it's very organized and sounds not only intricate, but soulful as well. It's hard to describe! So we just call it Epic Fucking Brutality!
Summon: How has the fan response been?
Jeff: Very well. Our fan-base feels our last album "Casting Ruin" is our best. I can safely say that the band agrees and so I would assume our fans are pleased with our progression.
Summon: Where did the band name come from?
Jeff: Originally, we were all from the Tidewater area of Virginia. However, currently we are from Virginia, New Jersey and Pennsylvania, respectively.
Summon: Introduce the band members and what they do in the band.
Jeff Sumrell: (Composer, Bass & Vocals) Virginia Beach, VA.
Dave Tedesco: (Drums) Paramus, NJ.
Richard Gulczynski: (Guitars) Oxford, PA.
Summon: Who writes the music? Lyrics?
Jeff: All the music and lyrics are written by me. The others contribute in small ways, but the vast majority of our material is written and coordinated by me.
Summon: And where do the lyric ideas come from?
Jeff: The content itself holds several meanings. One of the meanings is literal, the other carries a secular message and the last is a narration of the musical progression. These meanings are then presented in a poetic and philosophical manner. The ideas themselves come from the same place all ideas come from. The mind of their creator.
Summon: What is your view in Satanism and Occultism?
Jeff: True satanists I have no issue with. I actually respect their views very much. However, Theistic Satanism is just retarded. Any organized religion that believes in supernatural beings is idiotic, in my opinion.
Summon: How many albums/CD's have you released?
Jeff: Solace Of Requiem (self-titled) 2004
Utopia Reborn 2006
The Great Awakening 2010
Casting Ruin 2014
Summon: Tell me about some the songs on the latest CD?
Jeff: The most important thing to know about our latest album is that we used a binaural technique on the recording. Each song is actually two different songs. One song is being played from the left speaker and one song is being played from the right. This then creates a "middle song", which makes a total of three different songs that are being perceived when hearing only one song. Our lyrics are secular and are very philosophical. I write about life and try to weave a scientific and secular approach to life's greatest questions and concerns. Our music is actually written after I have developed a concept for the song's meaning. The music is then sculpted around that concept, to capture those exact emotions and/or thought process. The lyrics are then written to coincide with the music's ebb and flow. These are the techniques used throughout the entire new album. SO, without specifically answering your question about some of our songs, I hope I have provided enough information for your readers to form their own opinion.
Summon: Do you have any side projects?
Jeff: We have all played in other groups. Richard did a tour with a few bands, one of which was Decapitated. I've toured with Resurrection a few times. I did vocals for a German prog death band called Xiom and a German black metal project called Gryphus. I also have a heavy rock solo project I'm currently working on.
Summon: Who are some of your musical influences? Which current bands?
Jeff: Well, it is important to remember that there is a big difference between being inspired and being influenced. We take inspiration from all forms of music, past and present. We are all lovers of music and we all believe that you cannot isolate yourself to one genre if you are expecting to be called a "musician". The members of this band are avid listeners of all kinds of music. Dave is a big time jazz and fusion listener, Richard listens to ambient stuff a lot and I am a real huge fan of classical piano. We all like rap and we all have an affinity for everything Alice In Chains. My biggest inspiration is Jerry Cantrell, for certain! But it's a great thing to be inspired! It makes way for progression and advancement. However, the same doesn't hold true for influence! Influence is the death of progress and causes a mass produced sound that becomes trendy, then lame, and then dead! We try very hard to never be influenced by anyone else's music. The only influence I and my bandmates have is marijuana!
Summon: What is the band like when you play live?
Jeff: We are very energetic on stage. We command attention, as some people say. It's definitely hard not to notice us, that's for sure! Musically speaking, we are very technical but we execute it in such a way that it looks smooth and easy going. We don't pay any attention to our hands and fingers, we just play and scream at people while we do it. HaHa.
Summon: Have you guys ever played in another country?
Jeff: Yes, many many times. We have played several tours in Europe and in the United States, Our last tour was only a few months ago with Ulcerate and Wormed. We toured almost all of Europe on that tour. We try to do it at least once every year.
Summon: How big of crowd shows up at shows usually?
Jeff: That's a question that I can't easily answer. We've played for many hundreds of people at various venues and have played for much more than that at some of the festivals we have played. But we have also played shows for where there were only ten people in the club. Sometimes not even that many! So we have seen the entire spectrum of attendance at our shows.
Summon: How is the crowd response when you play?
Jeff: Our fans are great! It's always better when the majority of the people in attendance know your music, but we also do very well in front of our new audiences too. We are a very energetic and fun band to watch. Regardless of if the people like our style or not, I think most people can genuinely appreciate our skill and performance.
Summon: What do you think of the US Black Metal/Death Metal scene?
Jeff: The USA suffered a long drought of musical growth, mainly due to the economic slump. However, in recent times, that has begun to change, for many reasons, including the fall of gasoline prices. I think the U.S. scene was all but dead for the last several years, but, fortunately, it's starting to show a resurgence and I hope it will continue to recover. We will see..
Summon: What do you think of the Overseas scenes?
Jeff: The European scene has always been our favorite. Having said that, we do think the Euro market has shown a decline over the past few years. I think the whole world suffered the last years, due to the economy, but I hope to see all the scenes come alive again once more money starts circulating amongst the people once more.
Summon: What are some of new favorite black metal/death metal bands?
Jeff: There is not enough room on the internet to hold my response. So I'll narrow the question down and give my answer to my favorite band when I was a kid. That band was Morbid Angel.
Summon: When do you guys plan on writing any new material?
Jeff: Very soon! We plan on trying to have a new album written and recorded sometime before the end of this year.
Summon: What does the future hold for the band??
Jeff: The immediate future will be spent writing music, booking tours and preparing to release a lyric video for the song Heaving Bile And Ash from our newest album. We will also be releasing some Guitar Pro files from our latest album. As well as posting constant updates along the way. We have our entire new album being streamed for free from our website. We also have censored and uncensored videos, trailers, photos, news and much more on our homepage. We are currently donating 10% of our online clothing sales to a charity for children. You can find out more about our charities and our band by visiting our websites.
Thanks!
Contact them at:
https://www.facebook.com/solaceofrequiem
http://www.reverbnation.com/solaceofrequiem
https://plus.google.com/+Solreq
https://soundcloud.com/solaceofrequiem