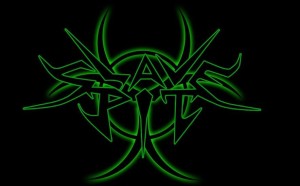 Summon: How did the band get started?
Sasko: The band started as a one man project in 2011 and it released one song, but with the old name "Nuclear Blood".
Summon: What kind of music do you play?
Sasko: The band on the start played old school based thrash metal but now with the new lineup it goes on a more aggressive path (on speed,death thrash route) and the first song is already done.
Summon: How has the fan response been?
Sasko: Well for now we don't have many fans because we are new. We have about 530 and they are satisfied. An EP came out with 5 tracks from the old stuff and everyone's reaction was positive and I hope in the future we will have much more.
Summon: Where did the band name come from?
Sasko: Well the idea for the first name was taken from the nuclear bomb and the idea for nuclear blood came as a mix of blood and nuclear waste. But now the name is Slave Pit and it is inspired from slaves thrown with out mercy in a cave to die in great pain.
Summon: Introduce the band members and what they do in the band.
Sasko: Well me Sashko Moisov an the guitarist and vocalist of the band and all the other instruments and studio work is done by me but here are Atomic Wedgie the bassist and backing vocalist and Pece Svekarovski Sabbat on the drums.
Past Members:
Blagoja Seksi – Drums
Nikola Nikuch – Drums
Nikola Gizarovski – Bass
Ilija Panov Japan – Bass
Vladimir Dimitrov – Drums
Velimir Uzunov – Bass
Krasimir Chernev – Second Guitar
I am grateful to all ex members for working with me.
Summon: Who writes the music? Lyrics?
Sasko: Well the recording process is done by me, the lyrics are made by me and the bassist (Atomic Wedgie).
Summon: And where do the lyric ideas come from?
Sasko: Well the idea for lyrics comes from wars around the world, usually we sung about war and death and the biggest inspiration is from the Americans because they are in war with the whole world.
Summon: What is your view in Satanism and Occultism?
Sasko: Well our view of satanism and occultism is not shown in this band, I have another band (death metal) named Golgota and I sing about satanism and occultism there.
Summon: How many albums/CD's have you released?
Sasko: For now we still don't have an album, we only have 5 songs released but we are working on our debut album now from which there is one song fully recorded that you had the chance to hear first but the album won't be ready until November or December in 2015.
Summon: Tell me about some the songs on the latest CD?
Sasko: Well the first song was made in 2011, the second one in 2012 and the others in 2014. There was a problem, I was in 4 other bands so Slave Pit was made to be a solo project band but things happened and the bands stooped playing and I stayed with only this one.
Summon: Do you have any side projects?
Sasko: Yes I have 2 side projects, Golgota (death metal) and Wings of God (heavy/power metal). From Golgota is only one full length album and now i am working on the 2nd one from which one track is already done.
Summon: Who are some of your musical influences?
Sasko: Well we are influenced by bands such as: Metal Church, Sodom, Exodus, Slayer, Overkill, Venom, Dark Angel, Testament.
Summon: Which current bands?
Sasko: Current influential bands are: Havok, Municipal Waste, Game Over, Bonded by Blood, Warbringer.
Summon: What is the band like when you play live?
Sasko: .Well we would like to share the stage with : Tankard, Slayer, Exodus, Destruction but we would play with any band if we are called because we are here to deliver some chaos!

Summon: Have you guys ever played in another country?
Sasko: Yes we have played in other countries (Bulgaria and Kosovo) for now we have a plan to tour Kosovo, Bulgaria and Serbia.
Summon: How big of crowd shows up at shows usually?
Sasko: Well in Kavadarci we played on a big festival where the crowd was about 9000, but that was a festival where there were a lot of other bands, but on our individual gig we had about 250 and so. But we are a young band and there are a lot of opportunities ahead.
Summon: How is the crowd response when you play?
Sasko: In Bulgaria the crowd was crazy because we have wild gigs, you can see the whole thing on youtube.
Summon: What do you think of the US Black Metal/Death Metal scene?
Sasko: Well from the Black metal branch I am not very big fan of, i only know Skeletonwitch but from death metal I have a lot of favorite bands like Deicide, Cannibal Corpse, Vital Remains, Massacre, Death, and a lot more.
Summon: What are some of new favorite black metal/death metal bands?
Sasko: Obscura, Beyond Creation, Spawn of Possession, Brain Drill. Are our Favorite Bands.
Summon: When do you guys plan on writing any new material? What does the future hold for the band??
Sasko: Well the plan was for summer we are starting to record now, we are not planning to rush. We want it to be done by the end of 2015 or the start of 2016. We want to take out time because we want the record to be good so unlike our old EP that was made in a hurry.
Contact them at:
https://www.facebook.com/tubathemaster
http://www.reverbnation.com/slavepit