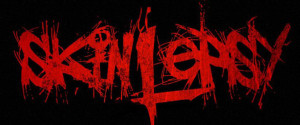 After a few years playing together, the former members of the band Siegrid Ingrid: Evandro Junior – Drums, André Gubber – Guitar, Sérgio Hernandes – Guitar and Luiz Berenguer – Bass, joined "Scream" – Vocals, to perform a new project, SKINLEPSY.
The idea of continuing the work that was done previously was preserved and the new compositions, expressing heavy and aggressiveness of Thrash and Extreme Metal, evident characteristics during the passage of the musicians by other bands: Evandro Jr. (Anthrares), Gubber (Skullkrusher, Nervochaos), Luiz Berenguer (Opera), Sergio (Brutal, Elma) and Scream (Stun).
In April 2003, began the rehearsals for the recording of the first demo CD, "Reign of Chaos", which occurred in June that same year at Mr. Som Studio, and featured the production of Heros Trench (Korzus).
The songs "Crucial Words", "Alienation" and "Crawling as a Worm", showed clearly the proposal of a new band, which featured interplay, musical experience and new ideas, but without losing the main musical direction: Metal playing without following a single strand, a single style.
This work received a great response from the specialized media, and somehow, generated great expectations regarding the recording of the first album.
However, after only a year, each musician followed its path in their respective bands.
In 2011, the experienced musicians André Gubber, Evandro Junior and Luiz Berenguer resumed SKINLEPSY with a sonority focused on Brutal Thrash Metal.
As result, arises the band's first album, entitled "Condemning the Empty Souls".
Aggressiveness, insane lyrics, consistency and brutality define this album, which is the result of an arduous process of writing, recording and production, which occurred during the second half of 2012.
Skinlepsy is:
André Gubber: guitar and vocals
Evandro Junior: bass
Luiz Berenguer: drums
www.metalmedia.com.br/skinlepsy
www.reverbnation.com/skinlepsy
E-mail: skinlepsy@hotmail.com
Condemning the Empty Souls – Track list:
Crucial Words

Condemning the Empty Souls

Crawling as a Worm

Alienation

Perversions of Racial Hatred

Pride and Rancour

Regressing from the End

Global Desolation

Dominium
Credits:
Guitars, Basses and Drums recorded at Estúdio da Tribo in October/November 2011.
Vocals and additional guitars recorded at Estúdio 44 between September and November 2012.
Mixed and mastered at Estúdio 44 – São Paulo by Beto Toledo in November 2012.
Produced by Beto Toledo
Co-produced by Rafael Bala.
All music by André Gubber and Evandro Junior.
All lyrics by André Gubber except: Crucial Words by Valdir "Scream" Silva Jr., Perversions of Racial Hatred and Crawling as a Worm by Evandro Junior.
Cover artwork by Jean Michel (www.designations.com.br)
Band photos by Luiz Berenguer (www.luizberenguer.com)
Additional vocals on Perversions of Racial Hatred by Luiz Carlos Louzada of (Vulcano, Hierarchical Punishment, Chemical Disaster).
Additional vocals on Regressing from the End by Fernanda Lira of Nervosa.
Guitar solo on Regressing from the End by Thiago Schulze of Divine Uncertainty.