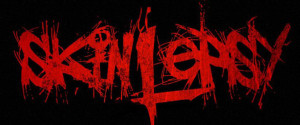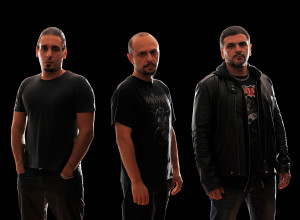 Summon: How did the band get started?
André: The band started in 2003. We played together in other local band called Siegrid Ingrid. All of us left this band and formed SKINLEPSY with the same members, except the singer.
Summon: What kind of music do you play?
André: We use to say that we are a Brutal Thrash Metal band, to be more generalist a Death/Thrash Metal band sounds better.
Summon: How has the fan response been?
André: In general, Brazilian metal-heads has liked so much. Our album was released in May/2013, and we are trying to show our music overseas, and know what people think about. We just started to promote this stuff, but the response has been awesome.
Summon: Where did the band name come from?
André: This word doesn't exist. There is no specific meaning; I just joined the word "skin" with "lepsy" (action to grab, act of receiving or possessing it something). A little bit strange, but we think that sounds strong.
Summon: Introduce the band members and what they do in the band.
André Gubber (guitars and vocals)
Evandro Junior (drums)
Luiz Berenguer (bass)
Summon: Who writes the music? Lyrics?
André: On this album, basically me and Evandro. But for the next release, all of us will participate integrally.
Summon: And where do the lyric ideas come from?
André: Our lyrics are based on uncertainties that stun the human mind. Selfishness, loneliness, depression, intolerance and religion are topics covered in our lyrics.
Summon: What is your view in Satanism and Occultism?
André: I do not have a concrete opinion. I respect the most diverse kinds of beliefs and ideas, just criticize the forms of alienation imposed by religions and churches in general. So I prefer not to express myself on topics that I don't know in depth.
Summon: How many albums/CD have you released?
André: This is the debut album from SKINLEPSY.
Individually I recorded Siegrid Ingrid (Pissed Off – 1995 and The Corpse Falls – 1999) and Pentacrostic (The Meaning of Life – 2009).  Evandro Júnior recorded with Anthares (No Limite da Força – 1987) and Siegrid Ingrid (The Corpse Falls – 1999).
Luiz Berenguer recorded Siegrid Ingrid (The Corpse Falls – 1999).
Summon: Tell me about some the songs on the latest CD?
André: The songs Crucial Words, Alienation and Crawling Worm were recorded in our first demo "Reign of Chaos" 2003. The other songs were a roundup of things I had been writing for some time. The song, Condemning the Empty Souls, talks about the fear that religious people have to do something that can be judged as sin or unethical. However, this is something that is said, evangelized, but it is a dogma, something without any certainty. Regressing from the End, talks about upon you return from the ashes can rise again, and then have a relapse, is living with a depressive cycle full of mystery. Perversions of Racial Hatred is about human intolerance on all aspects.
Summon: Do you have any side projects?
André: Me and Evandro play in other band called DESASTER. Evandro plays since 80's in a band called ANTHARES. This is a very important band from Brazilian scene, and they are recording a new album actually.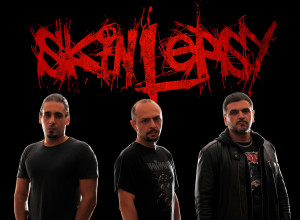 Summon: Who are some of your musical influences?
André: We are influenced by old school of Death and Thrash Metal bands, like: Obituary, Death, Exodus, Voivod, Malevolent Creation, Morbid Angel etc.
Summon: Which current bands?
André: We are always listening a lot of bands from the most various origins and stiles, I think the latest albums of Suffocation and Darkane are awesome
Summon: What is the band like when you play live?
André: We like when there is an interaction with the metal-heads, when them like our music and bang their heads, and we drink some beers together after the show.
Summon: Have you guys ever played in another country?
André: Unfortunately, not yet. But we are planning this for the next year.
Summon: How big of crowd shows up at shows usually?
André: Around 150/200 people.
Summon: How is the crowd response when you play?
André: Depends. Sometimes people stay just watching, sometimes people get crazy, and mosh a lot, obviously, we prefer crazy crowd.
Summon: What do you think of the US Black Metal/Death Metal scene?
André: R. I do not follow the black metal scene. But I can name a few bands that I am great fan like Immolation, Suffocation, Deeds of Flesh, Cannibal Corpse, Morbid Angel and Malevolent Creation, bands that I admire and that are icons of death metal scene worldwide.
Summon: What do you think of the overseas scenes?
André: I believe that the European scene is very strong and organized, mainly because currently the major festivals are held in Europe. The North American scene still keeping the name of metal music strong over the world, great bands are still active in disseminating metal. However, speaking as someone who is not so close, we have the impression that the American public is somewhat vulnerable and dressmaker, as well as most of the Brazilian public. There is also the growth of bands like Havok and Municipal Waste who are rekindling thrash metal scene, we like these bands.
Summon: What are some of new favorite black metal/death metal bands?
André: No new bands.
Summon: When do you guys plan on writing any new material?
André: We are planning begin to compose a new material from September this year.
Summon: What does the future hold for the band??
André: We expected some new albums, tours in another countries and opportunities to disseminate our music around the world.
Contact them at:
http://www.metalmedia.com.br/skinlepsy/
https://www.facebook.com/Skinlepsy
http://www.reverbnation.com/skinlepsy
E-mail: skinlepsy@hotmail.com