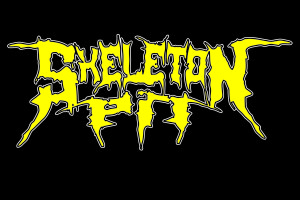 Old-School Thrash Metal – that´s unmistakably Skeleton Pits passion. With this style they pay homage to the real epicenter of this movement – the San Francisco Bay Area. After shows with Tankard, Evile, Dr. Living Dead, Tom Angelripper or Municipal Waste and their great performance on the german Out And Loud Festival 2015, they are already well known in the underground thrash metal scene.
The 3 metal-heads from south Germany have thrash in their blood and you can feel it, when they perform on the stage. If you like fast riffs, headbanging , denim cut-offs and high top sneakers, you are definitely right at a Skeleton Pit show. And now we present you their fantastic debut album!
Skeleton Pit was founded in 2014, but the band had been active for about ten years before under the name "Pissdolls" and already released three self produced albums.
Band Members:
Patrick Options (Gesang/Gitarre)
Doyle Fascinator (Bass)
Lizzard Chandler (Schlagzeug)