Skarthia
"Retaliate"
2012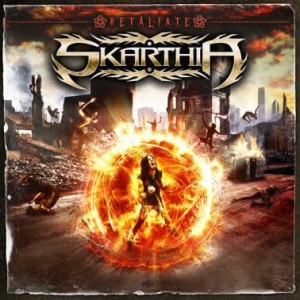 Skarthia is a Melodic Death Metal band from London England. They describe themselves as Melodic Groove Metal and at first I was ready to reject this. The first listen made me think of a lot of the American bands that want to be heavy but mainstream which will go nameless here as not to promote such things. Skarthia surprised me. As I listened to the Cd again the songs grew on me. I found myself listening to War Graves several times in a row. 
What stands out most for me about the band is the riffing. It does have a groove but not overt. In addition to catchy riffs the drives happen in doses that make you want more. The guitar solos are proficient and really listenable. The melodic style combined with shredder techniques at speeds you can hear really work for the song not just try and steal the spotlight. 
In addition to War Graves, Liefest and My Retaliation stood out. But this is a solid Cd. You could throw it in and listen to it all the way through. I RECCOMEND Retaliate as a purchase if you like Melodic Death Metal.
Tracklist:
1. Drill
2. No Last Words
3. Demolition
4. Liefest
5. Parasite
6. My Retaliation
7. War Graves
8. In Vain
https://www.facebook.com/Skarthia
Members:
Avichai Myers – Guitars/Vocals
Sapir Rajuan – Guitars
Adam Gigi – Bass
Wayne Thompson – Drums


Rating: 8 out of 10
~Alaric Hannibal Barca