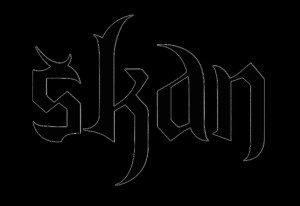 Summon: How did the band get started?
Jo: Škan was conceived in 2011.  Daniel Alvarez, and I met through a local listing for musicians.  When William Ables, and David Baxter joined in 2013, it marked the birth of Škan as a pack. 
Summon: What kind of music do you play?
Jo:  Extreme metal. 
Summon: How has the fan response been?
Jo:  The response from fans have been ravenous.  Its an honor to see so much enthusiasm for this music.     
Summon: Where did the band name come from?
Jo: The word Škan comes from the Lakota Sioux language.  It was chosen for it best fits the nature of this band.  It is the force that causes all things in existence to be in motion. 
Summon: Introduce the band members and what they do in the band.
Joseph Merino: Guitars, Vocals
William Ables: Guitars, Vocals
Daniel Alvarez: Bass, Vocals
David Baxter: Drums, Percussions
Summon: Who writes the music? Lyrics?
Jo:  I wrote the music and lyrics on, "The Old King" EP.  Jason Frankhouser of, "Course of Ruin", wrote, and recorded his lead guitar parts on, "Immortal Tyrant" (first solo), and on "Beyond Thrones".  Dan wrote his bass parts, and recorded them on the EP as well.  David came in at the end, and assisted with the drum arrangements, though he did not record on the EP.  William did not record on the album either.  He was on some sort of a recon mission.  Moving forward, we will be writing the material, and recording it together. People can can checkout Jason's band, "Course of Ruin", at http://courseofruin.bandcamp.com/
Summon: And where do the lyric ideas come from?
Jo: The lyrics come through sum of experiences, nature, and emotion.  They develop in a natural process during the making of the songs. 
Summon: What is your view in Satanism and Occultism?
Jo:  It isn't quite as what conventional thought systems would have one believe.
Summon: How many albums/CD's have you released?
Jo: At this moment, just one EP.  This is a new entity for us as a collective.  There is much to grow into, as well as to shape.  Rest assure that there will be much to come with the utmost intensity. 
Summon: Tell me about some the songs on the latest CD?
Jo:  The meaning that each individual experiences is of higher importance. Some will understand, and some will not, but that each person develops their own meaning from the songs is the bounty to behold. I'm partial to the song, "The Eye".  
Summon: Do you have any side projects?
Jo:  Not at this time.  Škan takes up most of our time right now.  We're open to other musical pursuits so long as it doesn't interfere with our commitments. 
Summon: Who are some of your musical influences?
Jo: I  listen to everything.  I've been heavily influenced by traditional music from Japan, the Lakota, to classical music, and of course rock and metal.  Some of my early influences are Zeppelin, William Horncloud, the Whitehorse Singers, Black Sabbath, Tadao Sawai,  Skinny Puppy, Morbid Angel, Sam Hain, early Metallica, etc.  This list is endless. The rest of the guys listen to all kinds of music as well.  We have such diversity within our group.  It is refreshing to have such breadth to our musical tastes.  Makes road trips far less mundane. 
Summon: Which current bands?
Jo: Demisery, God Seed, and I recently observed Watain in Austin, Texas last October.  They are an intense group to say the least.  I've also been checking out Wolfpack 44, which includes members of the Electric Hellfire Club, and Kult ov Azazel.   The other guys listen to many different things, we can't keep up with each other.  We share music we've been listening to on road trips. 
Summon: What is the band like when you play live?
Jo:  This band has not played a show together yet.  William, David, and I have been playing shows together for the last year, and a half in a former band.  The chemistry is always good between us.  The three of us, and Dan really have something brewing so to speak. 
Summon: Have you guys ever played in another country?
Jo:  Not as of yet, but this will change. 
Summon: How big of crowd shows up at shows usually?
Jo: As stated, we have yet to play as Škan.  We've all played shows in other bands. In those bands, we've all played from fifteen people to a couple thousand people.  When ever we begin playing festivals the numbers will increase.  Speaking for myself, and I'm sure the others would agree, I enjoy playing music no matter the size of the venue, or the amount of people that fill it.  Even in rehearsals, it is much enjoyed.  We perform music, because we enjoy it, and to us, this is what is important. 
Summon: How is the crowd response when you play? 
Jo:  What ever band I've played in, in the past, the crowd response is rather intense in a favorable manner. 
Summon: What do you think of the US Black Metal/Death Metal scene?
Jo:  The naming of all the genres is something that alludes one.  We just call all of it metal, or music for that matter.  If a band is astounding, we listen.  
Summon: What do you think of the Overseas scenes?
Jo: Scenes are scenes, as people are people.  It isn't something place much thought into. 
Summon: What are some of new favorite black metal/death metal bands?
Jo:  As mentioned before, I have been listening to is Demisery out of the North/North West.  One of their members is from Calgary, AB, Canada, and the other from Portland, Oregon.  I've really been enjoying their album, "Hive of Mutation".  I really dig the song, "Whisper Thy Judgment". I recommend that people check them out at: http://www.demisery.com/. Again, Wolfpack 44.  Check out the song, "The Black March".  You can find Wolfpack 44 at: https://www.facebook.com/Wolfpack44.band.
Summon: When do you guys plan on writing any new material? 
Jo:  We are writing new material now, as well as rehearsing for our live set. 
Summon: What does the future hold for the band??
Jo: Only time will reveal such things, though we are positive that Škan will have have much to show in the coming of days.  
Our EP (digital) is available for FREE downloads, or pay what, in any format at http://WolvesofSkan.bandcamp.com.  Download it, and share with friends. 
Contact them at:
http://wolvesofskan.bandcamp.com/
https://www.facebook.com/WolvesofSkan
http://www.reverbnation.com/wolvesofskan
http://www.youtube.com/wolvesofskan