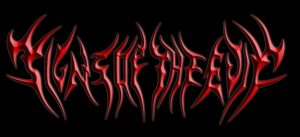 Signs Of The Evil are a blasphemous black metal band. Intellectually created in October 2002 in Comas, Peru by the vocalist Alexander Casillo "Belcifer" and the bassist Fernando Bustamante "Torment", after wasting time in another band Master Of The War. Torment and Belcifer establish S.O.T.E. under the terms of hatred, death, and evil signs like inverted crosses, swastikas, and pentagrams. All this decisively influenced them to create anthems of destruction and hatred.
It was in March 2003 that both started to compose hymns in Torment's bunker, giving birth to the songs Signs Of The Evil and Black Spell Of Death.
The band have had several session members on drums and guitar for live rituals and recordings, and in the end of 2003, Tinieblas joined on guitars and Julio Satyricom on drums. They began to compose hymns of hate and blasphemy during that time.
Signs Of The Evil's very first live performance was in Comas in 2004. In 2005, the song Signs Of The Evil was recorded as part of a demo.
After recording the single, Satyricom left the band, and they regressed into darkness. In 2006, Rodrigo took on the duty of session drummer. Shortly after their return, they recorded Podredumbre Humana, Satanas, Black Spell Of Death, and Lamentum as a rehearsal. After that, Rodrigo left the band and Robinson Penetrator became the new drummer.
With this lineup, in 2007 the band released the demo Crucificcion De La Peste Cristiana, with the tracks Signs Of The Evil, Podredumbre Humana, Lamentum, Black Spell Of Death, Cursed Mountain, Crucificcion De La Peste Cristiana, and Satanas. The music was composed by Belcifer and Torment. All the infernal lyrics by Belcifer.
The band have taken their live rituals to Villa El Salvador, Comas, Cercado de Lima, Jauja, Chimbote, Huancayo, and Huanuco; counting on the great support from metalheads in these regions and always showing attitude, holding the black metal spirit.
In 2010 Tinieblas was expelled because of his weakness. This was a bad time for S.O.T.E. But at the end of 2012, Hellthor took on the axe and quickly adapted to the band, bringing new ideas, which made the band complete as three pillars, giving new form to many old, unprepared songs and creating new blasphemic hymns.
At the beginning of 2013, Anhell took on drum duty. They had many great performances in such places as Ate, Huancayo, Huacho, Arequipa, Chiclayo, Barranca, Cercado de Lima, Comas, and a special performance with Inquisition in Miraflores. Between 2013 and 2015 they record their very first full length Black Throne Of Blood, with new tracks such as: Black Throne Of Blood, Demoniac War, Christian Blood For Satan, The Night Of Times, Cristus Desecrato, and a cover of Bathory's Man Of Iron.
In the end of 2015, Hellthor moved to the U.S., but he is still an active member. Shortly after, Anhell left the band for personal issues.
In the year 2016, S.O.T.E. started with new challenges as Belcifer and Torment seeked out proper reinforcements to continue in force. M-Killer took on drums in the middle of February and has had no problems adapting with the fastness and fierceness of the band.
For upcoming gigs they invoked Violator as a stage member.
Currently, the band continues in force holding the spirit of black metal alive, creating hymns, and spreading the message of hatred and blasphemy.