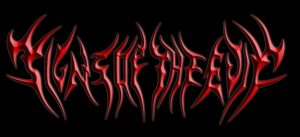 Summon: How did the band get started?
Belcifer: Greetings Altara, thank you for this interview. The band was found in 2002 by Alexander Belcifer and Fernando Torment in Comas (Northern Lima, Peru). We were influenced by the growing wave of Black Metal around the world. We wanted to create a black beast, a band that influence and awake the evil, a cult to Satanas and all the black entities of this world.
Summon: What kind of music do you play?
Belcifer: The band has a unique goal and style: Satanic and blasphemic black metal.
Summon: How has the fan response been?
Belcifer: At the beginning it was hard to get concerts and to get the respect of the assistants. The south American scene is too shutted and it does not show please to the novice bands. Now with 15 years of existence, Signs Of The Evil has deserved the respect of bangers in Peru.
Summon: Where did the band name come from?
Belcifer: The name was created by me (Belcifer), we live in a society of signs that we love or hate, such a crosses, swastikas, pentagrams, and others. They are signs of evil, so the name comes form it. We always use inverted crosses and pentagrams in our presentations.
Summon: Introduce the band members and what they do in the band.
Alexander Casillo a.k.a. Lord Belcifer: Blasphemic lyrics & voices
Fernando Bustamante a.k.a. Torment: Bass
Hector Elera a.k.a. HellThor: Axes
Miller Fernandes: War Drums
Summon: Who writes the music? Lyrics?
Belcifer: During the first 10 years, Torment and I were the composers of all the lyrics. From 2013, Hellthor is composing new damned hymns for the band. Everyone collaborate with the music of S.O.T.E. Every lyric is made by Belcifer form the beginning to the end of times.
Summon: And where do the lyric ideas come from?
Belcifer: There are many topics used in our lyrics. Mainly, satanism and occultism have been our sources of creation. We use topics such death, war, hatred, and black magic as well. All lyrics easily flow because of the vicious atmosphere I am surrounded. This makes me feel I am damning souls and burning minds. These feelings encourage evil composition and lyrics waiting for more hymns for S.O.T.E.
Summon: What is your view in Satanism and Occultism?
Belcifer: Satanism is a living and feeling way to interpretate our mundane existence. We have heritage occult arts from ancients. My vision is shutted. I practice black magic. Ancient occult arts influenced me a lot. They keep my soul and my vision in black. Occultism is not just a game, it is a way of living. We are black beasts going against religions those damn your soul to slavery. I prefer to live with power and destroying weakness than being a fucking slave. I prefer to reign in hell than being a fucking sheep in heaven.
Summon: How many albums/CD's have you released?
Belcifer: We have released 2 demos, Signs Of The Evil in 2005, and Crucificcion De La Peste Cristiana in 2007. We have released one full length called Black Throne Of Blood in 2015. They all were edited in CD format under our label Infernal Arts Prod. Currently, we are doing our next attack, it will release in Tape format in 2017. We will keep creating hymns of evil and perdition. The cult will exist forever.
Summon: Tell me about some the songs on the latest CD?
Belcifer: Our last attack was Black Throne Of Blood. We worship to Satan in all the tracklist. The theme is the ritual magic, human and animal sacrifices, the awaking of hell on earth, and a lot of blasphemy to the bastard Christ, symbol of human weakness. We have a tribute track, Man Of Iron, to the great master Quorthon in acoustic version played by our comrade Hellthor. It was a huge work to be able to release our creations independently. We are very proud for this, and we will continue doing more by ourselves.
Summon: Do you have any side projects?
Belcifer: I was a singer of Black Angel in their Peru – Bolivia – Brazil tour in 2013. Besides, I am creating raw and angry hymns under my own nickname Lord Belcifer. I hope record very soon a demo but I am focused in S.O.T.E. now.
Summon: Who are some of your musical influences?
Belcifer: We were mainly influenced by Black Sabbath, Hellhammer, Sarcofago, Vulcano, Blasphemy, Von, Mayhem (Old), Venom, Immoral, Impaled Nazarene, and others.
Summon: Which current bands?
Belcifer: Our influences come from old hordes. We try to not get influenced by novel bands, there are many good bands though.
Summon: What is the band like when you play live?
Belcifer: We create a total ritual atmosphere using skulls, human bones, goat heads, chains thrashing, bloody faces and leather & spikes or nails when we perform at stage. We are a band you can hate or love, we always are extreme in all senses.
Summon: Have you guys ever played in another country?
Belcifer: No yet, we expect to bring our ritual to other countries.
Summon: How big of crowd shows up at shows usually?
Belcifer: The Peruvian black scene is small. It is between 40 and 100 people support local bands in Peru. People double or even grow three times with foreign bands. People prefer foreign bands than local bands.
Summon: How is the crowd response when you play?
Belcifer: We can say we have got many banger at our side through years. They are following and supporting us. We are blackening their souls with our blasphemic lyrics. Many of them ask us for songs such as Satanas, Crucificcion de la Peste Cristiana, Pobredumbre Human, and Cristus Desecrato. They always offers alcohol and drugs to us. We keep the black atmosphere around us because of that.
Summon: What do you think of the US Black Metal/Death Metal scene?
Belcifer: United States has given life to many hordes we love, however, mainly Von, great influence to S.O.T.E. Judas Iscariot is another band we appreciate. They are old bands I respect a lot.
Summon: What do you think of the Overseas scenes?
Belcifer: I respect all scenes since they are firm, without poses, and sustain through the time by their music, and creativity. Not by publicity. The black metal language is universal. We respect the great hordes around this nasty world.
Summon: What are some of new favorite black metal/death metal bands?
Belcifer: I won't say no one because I prefer to listen to old school hordes. It would be good bands but I don't have any in my mind.
Summon: When do you guys plan on writing any new material?
Belcifer: Currently, we are recording our next production. It will be launched by our label INFERNAL ARTS PROD. It will be ready the next year 2017. Besides, we have many blasphemic hymns ready to record. We don't stop as the evil of this world. We'll always stand at war.
Summon: What does the future hold for the band??
Belcifer: I see a lot of hatred, wars and above all victories. The black metal banger's life is tough. We are a strong group. We'll continue making evil hymns until the end of times. Certainly, I can ensure this and many concerts those will confirm our infernal pact.
Thanks to Blackened Horde Zine/Radio for the opportunity to let SIGNS OF THE EVIL and their death's message being known.
Contact them at:
https://www.facebook.com/signsoftheevil
https://signsoftheevil666.bandcamp.com/
https://myspace.com/signsoftheevilband
https://www.reverbnation.com/signsoftheevil