Siderian
Cancel your Future
3 Track E.P
Released 18th September 2015
Reviewed by: Pagan Hel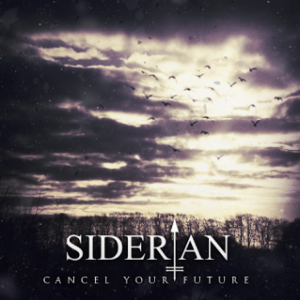 Siderian – Northamptonshire/Corby/Kettering
Links:
https://www.facebook.com/Siderianband
Genre: Make up your own mind!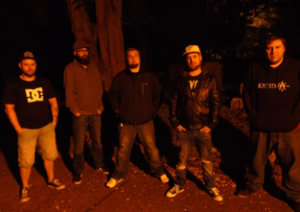 The raucous Siderian
Biography
"Siderian, are a relatively new five-piece metal band formed in March 2015 from the Northants area and feature ex-members of Wolves Hunting the Wicked, Black Ink Sun and Dead Girl in the Water. They have just released their debut E.P entitled "Cancel Your Future", recorded with Neil Hudson (Krysthla, ex-Gutworm) The band have swiftly put together a strong seven-song set to commence their assault on venues throughout the county and beyond!"
Hell of a Week
There is a musical hint of Doom and vocally much more Metal Core attached to this slice of genius. The slabs of rhythm hit like an express train with screeching vocal accompaniment to smash your head to. The textures of this mighty track are raw and agitated with vibrant hits of melodic groove.
—————————————————————————————————————————————————————————
"The energy flows with an electric pulse of inflamed grooves and embraces them with eager vehemence!"
————————————————————————————————————————————————————————–
Limb Efficiency
Some strong beats usher forth on the beginning of this track with a powerful vocal ensemble that follows in bristling form and on top of their game for sure! The rigorous outpourings are rife with infectious bait and excites all the way through the track, despite me writing the track down first calling it 'Limb Deficiency' although by the time you have listened your limbs are anything but efficient!
Reduced Aisle
Starting with a voracious rhythm and outstanding vocals, it just lifts you into imagining a mosh pit forming in your living room and you are at the centre of it. One highly addictive track that leaves all the senses bruised beyond recognition!
Summary
This is one fantastic E.P the only problem is, is that it doesn't last long enough so it is a good job that there is a repeat button as it is going to get a lot of use when listening to this.
For me this is superb metal-core, sung and played to perfection and so easy to get absorbed into. There is no escaping its brutally warped imagination for sure!
The energy flows with an electric pulse of inflamed grooves and embraces them with eager vehemence!
10/10
Tracks:
Hell of a Week
Limb Deficiency
Reduced Aisle
Members:
Dave Pope – Vocals;
Kyle Ainsworth – Guitar;
Gaz Wayne Clipston – Guitar;
Mike Wilson – Drums
Piotr Lukasik – Bass